Marvel comics
---
Download a Special Jack Kirby Episode of the This Week in Marvel Podcast
(Thu, 27 Aug 2015)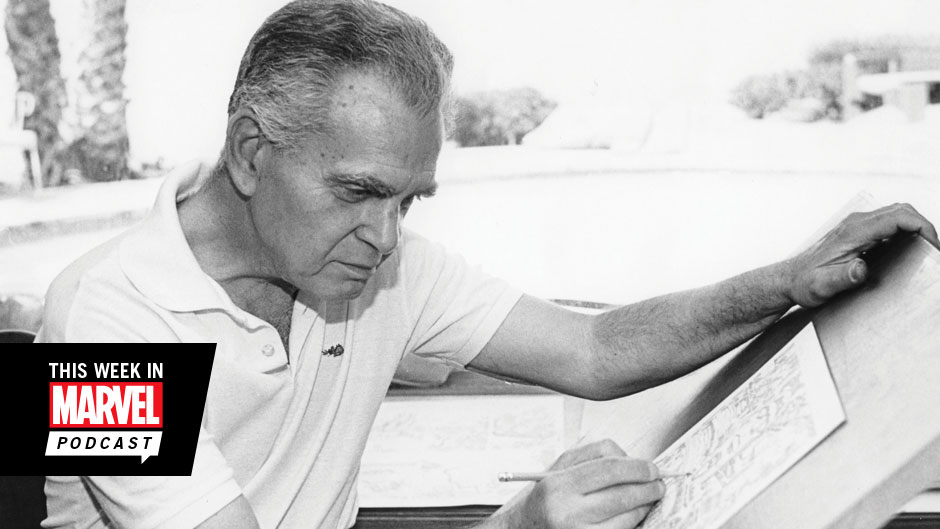 Celebrate the 98th birthday of Jack 'King' Kirby with this very special edition of the This Week in Marvel Podcast where Ryan chats with Marvel historian Peter Sanderson about the life and legacy of the influential artist!
Download the special Jack Kirby episode of This Week in Marvel from Marvel.com
, 
grab the TWiM RSS feed
 and 
subscribe to This Week in Marvel on iTunes
 so you never miss an episode!
This Week in Marvel will focus on delivering all the Marvel info on news and new releases--from comics to video games to toys to TV to film and beyond! New episodes will be released every Tuesday and Thursday (or so) and TWiM is co-hosted by Marvel Digital Media Group Executive Editorial Director Ryan "Agent M" Penagos and Marvel.com Senior Editor Ben Morse with Manager, Video & Content Production Blake Garris, Editor Marc Strom, and Assistant Editor Patrick Cavanaugh. We also want your feedback, as well as questions for us to answer on future episodes! Tweet your questions, comments and thoughts about TWiM to 
@AgentM
, 
@BenJMorse
, 
@blakegarris
or 
@Marvel
 with the
 hashtag #ThisWeekinMarvel
!
>> read more
Annihilation Reaches Terminus Point in 'Marvel Mighty Heroes'
(Wed, 26 Aug 2015)
Annihilation comes to a close this week in Terminus Point with the Annihilation Wave breaking on one of the last bastions of galactic peacekeeping. DeNA Senior Producer John King talks to us about Annihilation and what comes next for
"Marvel Mighty Heroes"
 after the dust settles. Marvel.com: The Annihilation Wave is set to come crashing down on Xandar, home planet of the Nova Corps. Is Xandar just another planet in line for destruction, or is it something more? John King: Xandar, like you said is home to the Nova Corps. The Nova Corps are the last line of defense versus the Crimson Cowl. Just one more step to the universal destruction Crimson Cowl craves. Marvel.com: And the duplicity! The Crimson Cowl is none other than our least favorite metallic maniac Ultron? John King: That's right...mwwaaaaahahahaha, sorry. After Ultron lost during Age of Ultron, he set his optical receptors on galactic destruction.  Marvel.com: Why is Thanos suddenly fighting on the side of the angels? Is it that he doesn't want anyone, especially not some robot, wiping all life from the universe? John King: Well Thanos does what Thanos wills; if the universe is going to be destroyed then it is going to be on his terms.  Marvel.com: Are our heroes just fighting Ultron, or do they have other things to take care of on Xandar? John King: Just Ultron, and his Annihilation army! Our heroes will have to defend parts of Xandar and also survive the hordes and hordes of Annihilation enemies.  Marvel.com: Is this the same Ultron we fought before? He's been out and about among the stars for a bit, has he picked up any new tricks? John King: After his last battle with our heroes he has learned and adapted. He is truly ready for the heroes this time. Marvel.com: And what's the best way to take him down? Our heroes managed to take him out on Earth—do the same strategies still apply? John King: Well some of the same strategies apply, but I will say this to our fine heroes: do not bunch up! If you do then it's already too late.  Marvel.com: What's coming up next after Annihilation concludes? John King: Well since our heroes are away, it looks like our villains are out to play and Norman Osborn is at the forefront. His Dark Siege is the next exciting six-issue story arc planned for Marvel Mighty Heroes! Play "Terminus Point" and stay tuned to
Marvel.com
for more
"Marvel Mighty Heroes"
news and interviews!
>> read more
Cut into the All-New Wolverine Sketchbook
(Wed, 26 Aug 2015)
Laura Kinney, the hero formerly known as X-23, goes solo in
ALL-NEW WOLVERINE
, but her art team works in tandem to kick butt and take names. David Lopez and David Navarrot's designs for the book reveal a major affection for the character and her world, as well as a deep thought process for their work. Marvel.com: David Lopez, what's the typical way of approaching an issue like for you? David Lopez: I work on a four week schedule basis. First week—maybe week and a half—I read the script and try to understand what the story is and how can I relate it to the reader. It's all about the concept. Then I doodle little thumbnails on the printed script itself, just doodles that only I understand. After that I move to the computer, and I do a rough sketch of all the pages and place the balloons; leaving room for the balloons is vital. Read the story again, change some stuff; and then I do final layouts in rough pencils and place the masses of black and the basic grey work. That's the tough part. After that and [until] the deadline, I work with David Navarrot on final art. I work more on the main characters and he does the rest; it's great because we have different design backgrounds; he's great working on machinery and has a sleek sense for rendering. Basically he does all the hard work while I watch movies. As to my everyday life as a guy working in comic books, that's easy: I take care of my baby girl till the afternoon and the work until midnight. It's intense. Marvel.com: David Navarrot, how do you see your role on the art team? How do you collaborate with David? David Navarrot: David and I try to keep the dynamic fluid and there are no strict roles. Once the layouts are done, we work on pretty much everything together. David has a lot of experience drawing comics and is a very good narrative storyteller. He is able to create characters that express emotion and have soul. We help each other try to achieve what the script demands. We've been friends for years and get along great so it's always a pleasure working with him. And he is very patient with me. In sum, Lopez is more into fashion, feelings and such. I'm the nerd who deals with weapon concepts. Marvel.com: David Lopez, looking back at how you'd normally approach page layouts, is there anything you'll try to do differently on ALL-NEW WOLVERINE?  David Lopez: This book is so full of action that we thought a manga approach to it would work, so we've been researching the works of Katsuhiro "Akira" Otomo, Masamune "Ghost in the Shell" Shirow, Hiroaki "Blade of Immortal" Samura, and Masashi "Naruto" Kishimoto, and brought them to our ground. We want to take advantage of the possibilities of working full digital so there will be a lot of heavy grey-work. We are having a great time working on this book so I believe that the readers will appreciate it—and we hope they'll love it. David Navarrot: The layouts are more of Lopez's thing. I'm more into the details and final touches of the book. The tone I'm going for is like that of some manga artists he mentions, like Otomo or Shirow, from back in the 80's. But obviously it will be different because we're doing it for the American market.  Marvel.com: How much prep work—research, sketching, etc.—is involved before the pencils even touch the paper? David Lopez: As much as I can, because that's my weak spot. Navarrot and I are big fans of those animation bibles where you can see all the details of the preproduction, so we're trying to do our own for this book. If you have time to think these things straight and you want to invest the energies needed on it, the final result is always better. Marvel.com: You worked out several designs for Laura beyond her costumed look; why was it important to focus on her clothes and the way she wears them? David Lopez: Laura is Wolverine now and a Wolverine book has its codes. We used to have Logan with his leather jacket and his cowboy boots and hat—he'd been living his adventures dressed like that for years—but with Laura we're at a very sweet moment of her story. She's starting her career as solo hero and she'll have that kind of solo adventure, with that spirit, so I wanted to work carefully on her street clothes. It's basically the same outfit as Logan but fitting more Laura's background.
Marvel.com: Well, how did you approach adapting Logan's classic look to Laura? What did you want to accomplish? David Lopez: When I design a character's clothes I always think of utility and "character." I can't see Laura on high heels, but she's perfect with those gothic platform boots. When you dress a character you're telling the people who he or she is and what their background is. For this particular one, Laura wears a cool biker's jacket; I want to show her riding a bike at some point sooner or later—with pants that are resistant, but stylish, and the scarf can adapt to lots of different climates and situations. The shoes…I just hope she doesn't need to use the foot claws. Marvel.com: What do you see in Laura's face when you draw it? Do you fill it with certain things, like anger for example, despite whatever her mood is at a given moment? David Lopez: Laura has been through so much; she's been living in the streets, she's sold her body, she's assassinated people—you know, lots of [expletive], but now she's left all that behind. I mean, it's there in her emotional backpack, but it's not everything she is. This time she wants to take her own decisions and make her path. I see her as someone emotionally distant with some temper; she looks like she's disappointed, but it's more against herself than the people around her. Marvel.com: What can you say about the intriguing "Sisters" sketch? What's going on with the look of the character? David Lopez: I don't want to spoil too much about the Sisters because they have a capital role in this book, but it's taking a lot of pains to get a final look for them, and I even think we will be fine-tuning the designs until the day the book goes to print. This is more in the hands of Navarrot; he can find solutions to every design problem, his designs work. I mean, you can see how the straps hold the masks or where the protections flex. He's awesome. Marvel.com: David Navarrot, what do you feel is necessary for these designs, in terms of styling characters and tech, etc.? David Navarrot: The style of the designs will be not too sci-fi, but will be kick-ass.  Marvel.com: And finally, gentlemen, you work a lot with color when you sketch and design; how important is color to that process? David Lopez: Since I've started working full digital the use of color comes easier. I don't need to scan stuff before coloring, so I can work with color from the very beginning. I use it as another tool to tell the story of the characters or the objects I draw. My respect for colorists has increased dramatically; it's a very important work and when it's done properly it can boost the look of a book very much. ALL-NEW WOLVERINE slashes its way into the Marvel Universe this fall, and the
All-New, All-Different Marvel
news keeps coming to Marvel.com and our social channels!
>> read more
COSPLAY VARIANTS Bring Marvel Heroes To Life Later This Year!
(Wed, 26 Aug 2015)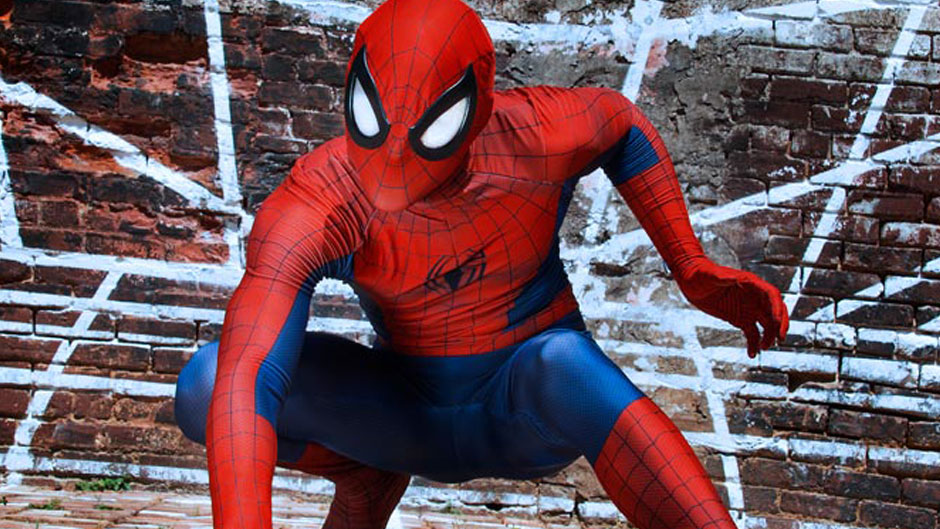 Today, Marvel is pleased to present your new look at the upcoming COSPLAY VARIANT program. See your favorite Marvel characters like you've never seen before, as mighty Marvel fans bring them to life for 20 exciting covers!   "Cosplayers are taking over," says Marvel SVP Sales & Marketing David Gabriel. "Each convention I go to, it seems like there are more and more fans dressing up like their favorite Marvel characters. These homemade, hand-crafted costumes are so elaborate, it looks like they leapt off the comic page. The Cosplay Variant initiative is our way of supporting a community that supports us."                                                                                                                 Look for these exciting COSPLAY VARIANTS coming to comic shops later this year:                                                                                                       1.      A-Force #1 Cosplay Variant by Jay Justice 2.      All-New Inhumans #1 Cosplay Variant by Yaya Han 3.      Amazing Spider-Man #1 Cosplay Variant by Aaron Rivin 4.      Astonishing Ant-Man #1 Cosplay Variant by SoloRoboto Industries 5.      Avengers #0 Cosplay Variant by Michael Cox 6.      Captain Marvel #1 Cosplay Variant by Judy Stephens 7.      Daredevil #1 Cosplay Variant by Patrick 'Rick' Lane 8.      Doctor Strange #1 Cosplay Variant by Allen Lee Hansard 9.      Extraordinary X-Men #1 Cosplay Variant by Amanda Lynne Shafer 10.  Guardians of the Galaxy #1 Cosplay Variant by Contagious Costuming 11.  Invincible Iron Man #1 Cosplay Variant by Dale Oliver 12.  Ms. Marvel #1 Cosplay Variant by Soni Balestier 13.  Nova #1 Cosplay Variant by Cap Santiago 14.  Sam Wilson Captain America #1 Cosplay Variant by Eddie Newsome 15.  Spider-Gwen #1 Cosplay Variant by Kathrine Zan 16.  Spider-Woman #1 Cosplay Variant by Yashuntafun Cosplay 17.  The Mighty Thor #1 Cosplay Variant by Sarah Jean Maefs 18.  The Mighty Thor #2 Cosplay Variant by Kevin Spooner 19.  Uncanny Avengers #1 Cosplay Variant by Miss Kit Quinn 20.  Uncanny Inhumans #1 Cosplay Variant by Kalel Sean 21.  CLASSIFIED
Photography by Judy Stephens.   No fan can afford to miss out on these exciting variant covers featuring your favorite Marvel characters brought to life by these stunning cosplayers! Head to your local comic shop beginning this October to get your hands on these can't miss COSPLAY VARIANTS!
>> read more
Follow the History of Black Widow Pt. 13
(Tue, 25 Aug 2015)
A super spy, a super hero, an Agent of S.H.I.E.L.D., and Avenger—Natasha Romanoff has been all these things and much more since making her way into the Marvel Universe over 50 years ago. With Marvel's 
"Avengers: Age of Ultron"
 and other Marvel Cinematic Universe outings continuing to raise the Black Widow's profile, we chronicle her exciting history! The Black Widow reunited with the rest of Earth' Mightiest Heroes in
IRON MAN #324
as Immortus' plot to subvert Tony Stark deepened. Natasha's friend Janet Van Dyne came out of a forced hibernation in a new Wasp form in
AVENGERS #394
to aid her team in the struggle.
The Widow led her teammates through time itself to pluck a teenage Tony Stark out of the timestream in AVENGERS: TIMESLIDE, so as to help fight Tony' older counterpart in the present. Government agent Gyrich and his Mandroids tried to stop Natasha and the Avengers in
IRON MAN #325
, while young Tony fell in a clash with the conflicted elder Stark. Ultimately, the present-day Iron Man sacrificed himself in
AVENGERS #395
to stop Immortus, and the Widow helped to revive young Tony using Iron Man's tech. Natasha and the Avengers next answered a challenge from the Hulk in
INCREDIBLE HULK #439
, which led to a blistering showdown between the Jade Giant and Thor in
INCREDIBLE HULK #440
. After a battle with the Leader in
AVENGERS #397
, the Black Widow grew concerned over the presence of Tony Stark's old nemesis Masque in Avengers Mansion in
AVENGERS #398
. Those concerns multiplied when the mysterious figure known as Benedict invaded the mansion to abduct Masque in
AVENGERS #399
.
Weary from a strange clash with Loki and a host of shadowy entities in
AVENGERS #400
, Natasha took her team to aid the X-Men in their plight against the towering Onslaught in
AVENGERS #401
. In the aftermath of the struggle, and with most of her fellow heroes vanished, the Widow prowled the streets of the city alone in
AVENGERS #402
. After joining with Spider-Man in SPIDER-MAN TEAM-UP #4 against the Timespinner, the Widow met up once more with her old partner Daredevil to take down the fearsome Grey Gargoyle at Osborn Chemicals in DAREDEVIL #361. Circumstances forced Natasha to shoot the Man Without Fear during his fight with Omega Red in DAREDEVIL #368, and she burrowed deeper into a plot involving both Russian super heroes and the Russian mob in DAREDEVIL #369 and #370.
Still reflecting upon the apparent death of Frank Castle in PUNISHER #17, the Black Widow considered the appearance of a new team of heroes in
THUNDERBOLTS #1
, and then accepted their help versus a new Masters of Evil in
THUNDERBOLTS #3
. One of the new crusaders, Songbird, sought Natasha's advice in THUNDERBOLTS #9, so the Widow regaled her and teammate Mach-1 with a story of other replacement heroes. Read more on 
Marvel Unlimited
>> read more
Jack Kirby Week: Kirby4Heroes
(Tue, 25 Aug 2015)
On Friday August 28, anybody who has ever enjoyed a Marvel comic, movie, TV show, or character should take a moment to wish a happy 98th birthday to the one and only Jack Kirby, one of comics' all-time greatest creators and a pillar of the House of Ideas. All-week long to celebrate, Marvel.com will be featuring the best of "The King," with interviews, art, stories, and more! Visit 
marvel.com/kirbyweek
! Also be sure to check out and support Kirby4Heroes, a special campaign to raise money in Jack's honor for the Hero Initiative founded by his granddaughter Jillian! Visit
kirby4heroes.com
 and 
Facebook.com/Kirby4Heroes
, and 
watch this special Kirby4Heroes spotlight video produced by The Nerdist
!  At the age of 16, Jillian Kirby, granddaughter of legendary creator Jack Kirby, founded Kirby4Heroes, a charity to support the Hero Initiative, a non-profit organization to help those in the comics industry fallen on hard times and in need of medical and financial assistance. In this way, Ms. Kirby continues the charitable legacy of her grandfather, whose own door always remained open to those in need. As she prepares to mark another year of Kirby4Heroes' fund-raising, Jillian Kirby took a moment to reflect upon both her work for the charity and Jack's spirit of giving. Marvel.com: Jillian, you were a busy high school student when you founded Kirby4Heroes, and a busy college student now; how did it come about and how did you know you could make it work and still maintain your education and personal life? Jillian Kirby: First and foremost, I was raised by both sides of my family in an atmosphere of charity, giving to those in need, and giving back to the community. My parents, Connie and Neal Kirby, are the biggest influences in my life. My mother is a Speech and Language Pathologist, who passionately serves elementary school children with speech and language difficulties and who might also suffer from Autism, emotional problems, or Attention Deficit Disorder. Many times, she has given a voice to children who cannot speak a word. A previous job involved serving children in juvenile detention centers, giving them hope for a future outside of prison. The kindheartedness and selflessness she has shown has inspired me to enter into a profession that ultimately benefits others. My father is a science teacher who also loves working with children, awakening in them an enthusiasm for science many have not experienced. His devotion and knowledge also awakened in me a passion for math and science. Both my parents, in their chosen professions and at home with me, are the best role models and heroes I could possibly have. My other grandfather, Gene Oliva, had a very successful career in public relations in New York City, working tirelessly as my grandfather Jack Kirby did. He was a true mentor to those starting out in the field, sharing his creativity and enthusiasm. My grandmother, Ruth Oliva, epitomized public service. She served on her town board as a Councilwoman and Deputy Town Supervisor. In addition, she was a tireless voluntary advocate for environmentalism and preserving the quality of life on the North Fork of Long Island. I never saw her sit still except to eat dinner. What an example she set! I am proud that a county nature preserve, Ruth Oliva Preserve at Dam Pond, was named and dedicated in her honor after she passed away. My grandfather, Jack Kirby, a WWII combat veteran and member of the "Greatest Generation", to me serves as a role model in terms of his acts of valor and bravery during the war. In addition, one aspect of his status as a role model for my family and myself is his charitable works. Throughout his life, by giving to charity and to his temple, my grandfather embodied the very generous and giving nature that I hope to expand upon. His comic books reached out to so many children, and helped many through difficult times. He was humble and never refused to talk to any of his fans. And, my grandmother, Roz Kirby, was a hero, true and steadfast to my grandfather. Her devotion to him allowed my grandfather to follow his passion; another example of selflessness. I am proud to call each and every one of them my grandparent; they have all had a very positive impact on my life. They are all heroes. My grandfather Jack Kirby died the year before I was born.  Prior to entering my senior year of high school in 2012, I was searching for a way to make more of a personal connection with him.  In addition to family stories over the years, I had just read my father's article "Growing Up Kirby: The Marvel Memories of Jack Kirby's Son" published on the LA Times Hero Complex website, which brought tears to my eyes. The connection with my grandfather grew even more from this, and I wanted to take it one step further.  I thought the best way to honor his legacy as a grandfather and as a creator in the industry he helped shape would be through some type of charitable work.  This led me to look at charities benefitting the comic book industry.  I was surprised to find there were only two: the Hero Initiative and the Comic Book Legal Defense Fund. After researching the Hero Initiative, I found it so tragic when I discovered that there were so many people in the comic book industry without a financial safety net. The Hero Initiative, which is the only federally registered nonprofit organization that provides medical and financial assistance to comic book creators, writers and artists, is definitely a cause that my grandfather would have championed. Going into this campaign, I knew it would take an enormous amount of hard work. Hard work is something that is in my DNA, it runs on both sides of my family. I know from the examples set by my family that you can achieve anything you want if you work hard. I used my grandfather Gene's lessons from public relations in creativity, organization, planning and follow through. Further researching convinced me that my grandpa Jack was held in such high esteem by his peers, past and present and I felt confident that I could ignite the campaign with initial support within the comic book industry. My grandfather was known to have a very strong connection with fans of all ages, spanning several generations. Somehow I knew I would be able to start by recruiting their help and support. Though the Kirby4Heroes campaign is a year-round effort, it really heats up in June and reaches its zenith on my grandfather's birthday, August 28th. Having a full-time job during the summer, in addition to managing the campaign, is definitely a balancing act! Unlike most teenagers, whose parents often delegate to them, sometimes I'm delegating certain Kirby4Heroes responsibilities to my parents during the hectic summer months. This has proved necessary and definitely helpful since the campaign has grown so much since its inception in 2012. I really appreciate my parents for their continuous support! September through May are much less intense months. However, as a biomedical engineering major entering my junior year of college—Iron Man, Ant-Man, need a new suit?—sometimes even just maintaining my Kirby4Heroes Facebook and Twitter pages on a daily basis can be a challenge! I try to do my best during these months to honor my grandfather's legacy by continuing the enthusiasm for my campaign and the Hero Initiative on social media.   Marvel.com: That's an incredible legacy. How would you describe the growth of the charity since its inception? What do you attribute it to? Jillian Kirby: My 2012 Kirby4Heroes campaign included comic book retailers throughout the state of California, as well as the first Wake Up And Draw event (WUAD), sponsored by Hero Initiative. This event recruited comic book artists from across the country to create works of art on my grandfather's birthday. These pieces were later auctioned off, with the proceeds going to Hero Initiative. In that first year, the Kirby4Heroes campaign raised $5000 for the Hero Initiative. In 2013, my Kirby4Heroes campaign grew with the addition of a Kirby4Heroes public Facebook page. Because of the generous donation of time, effort and support from Bill Cucinotta and Gerry Giovinco of CO2 Comics, a Kirby4Heroes web site was created. Comic book retailers across the country were recruited, and WUAD, with [Hero Initiative's] Jim McLauchlin's persistence, was expanded through the voluntary participation of many more talented artists. This increased my fundraising efforts, raising $10,000 for the Hero Initiative! Last year in 2014, artist Phil Hester created 97 different pieces of Kirby-themed art to auction off for my grandfather's 97th birthday, raising over $3000! He pulled a marathon of an all-nighter working on these creations, live tweeting with lighthearted humor throughout the night, which truly increased individual participation and enthusiasm for the event! And there's more! Yet another event spearheaded by the upstate New York team of Ron Marz, comic book writer, and Paul Harding, comic book artist, with participation of comic book retailers, threw a party in commemoration of my grandfather's birthday at a local venue and raised over $2000 for the Hero Initiative. The event, celebrating the legacy of my grandfather Jack, was featured on National Public Radio! They characterized August 28th as a movement that is spreading throughout the country to become "National Jack Kirby Day"! My grandfather would have been astounded! Also, a group of major comic book artists made appearances at comic book stores to participate in Wake Up and Draw. The revered inker Joe Sinnott created a work of art as a heartfelt tribute to my grandfather to be auctioned off for the Hero Initiative.  In addition, global outreach for the campaign increased, with events at the Moebius Liceo Gallery in Buenos Aires, an appearance by comic book artist Joe Prado at a comic book retailer in San Paolo, Brazil, a major fan Facebook page in France dedicated solely to the works of my grandfather, and comic book artists in France and Italy that created Kirby-inspired works for auction. In total, the Kirby4Heroes campaign raised almost $15,000 in 2014!  Currently, my 2015 campaign is off and running! I am again working with major comic book retailers, not only in California, but also across the country. Many will be donating a percentage of their sales or profits on my grandfather Jack Kirby's 98th birthday, August 28th, to the Hero Initiative, publicizing my campaign on their web sites and Facebook pages, and using in-store posters and collection jar labels that I have provided. Some will be hosting "birthday parties," enlisting known comic book artists to draw in their stores with the work to be auctioned off either in their stores or as part of WUAD on eBay. Others will be holding raffles with the proceeds donated to the Hero Initiative. Phil Hester will once again participate with his crazy nonstop drawing, this time creating 98 pieces for my grandfather's 98th birthday! Also this year, certain comic book retailers coast-to-coast, and Kansas too, will be broadcasting podcasts featuring comic book artists talking about my grandfather and Kirby4Heroes. I am so excited that my 2015 Kirby4Heroes campaign will also have the official endorsement of ComicsPRO, the only professional trade organization for comic book retailers. Marco Davanzo, the Executive Director—and owner of Alakazam Comics in Irvine, CA—was instrumental in facilitating this arrangement. With over 130 members representing over 200 stores nationwide, I expect ComicsPRO to be a great resource and support. Within hours of Marco publicizing the campaign to ComicsPRO members, I began receiving requests by comic book retailers to be involved in my Kirby4Heroes campaign. It's thrilling that my Kirby4Heroes campaign is receiving such enthusiastic support by members of the comic book community.
Since my campaign's inception in June 2012, the support given to me by the LA Times Hero Complex and the Nerdist Channel has been instrumental in relaying my message to the comic book reading public, major comic book websites, and mainstream media outlets, increasing my fundraising outreach. My initial contacts, Geoff Boucher at the Hero Complex and Seth Laderman at Nerdist, provided such amazing guidance, mentorship and continuing support and enthusiasm which carries through to this year's campaign. The LA Times Hero Complex again published
a fantastic article
about my 2015 Kirby4Heroes campaign, embedding the professionally produced and edited 2015 promotional YouTube video,
released on the Nerdist Channel
. One of the most satisfying surprises from my 2014 campaign was the amount of personal donations in the name of Kirby4Heroes sent in to the Hero Initiative either by mail or on the Hero Initiative web site. The addition of my public
Kirby4Heroes Facebook page
in 2013 and its growth in 2014 greatly helped my fundraising efforts. This Facebook page is meant to serve as a type of personal Jack Kirby art museum. I try to keep my grandfather Jack's legacy thriving through daily postings of his artwork. Comments made by the page's followers are often both entertaining and educational.  They keep my grandfather's spirit alive. The Facebook page allows followers to personally message me, which has become another avenue for outreach. Furthermore,
a Kirby4Heroes Twitter account
 was created in 2014, which really heats up for my grandfather's birthday on August 28th. Innovative fundraising ideas contributed by many Jack Kirby fans continually assist the Kirby4Heroes campaign to expand and blossom! Watching this event spread from state to state, with the possibility of becoming a national or international event is my greatest dream leading up to my grandfather's 100th birthday in 2017. I look forward to the culmination of a fantastic show of support on August 28th! Over the past three years the Kirby4Heroes campaign has been fortunate enough to raise over $30,000 for the Hero Initiative. This year, I've upped the ante to a fundraising goal of $20,000!  Marvel.com: And what aspects of the 2015 campaign are you most excited about, and why? Jillian Kirby: There are so many new and amazing aspects of Kirby4Heroes this year that it's hard to pick just one! Kirby4Heroes has the official endorsement of ComicsPRO, the only professional comic book retailer trade organization, which has greatly helped to expand the outreach of the campaign.  Because of this, new retailers have been reaching out to me, asking how they can get involved in Kirby4Heroes. It is also very gratifying to see Marvel devoting a week on their web site to my grandfather, his legacy and this campaign for the Hero Initiative for the first time! It touches my heart!  Furthermore, I'm very much looking forward to August 28th, to see what is happening across the nation and globally for the Kirby4Heroes Wake Up And Draw event. The enthusiasm of the participating artists is evident on Twitter while they are in the process of creating and completing works of art in honor of my grandfather's birthday. There are at least 70 artists and counting participating this year. I am contacted almost every day from another artist that wants to be involved in the campaign. Some individuals have reached out to me, noting that they don't have the financial means to contribute to the Hero Initiative, but they contribute fantastic fundraising ideas. You can't put a price on wonderful ideas that are volunteered to you!   Marvel.com: Indeed! How best would you describe your grandfather's own charity towards others? Where did it come from within him?  Jillian Kirby: My grandfather was a Depression-era child who grew up in a Jewish neighborhood on the Lower East Side of Manhattan. His immigrant parents lived in very poor circumstances. Their family of four lived on the fifth floor of a walk-up tenement building. The apartment, if you could call it that, had but one window and no electricity. The entire family shared one bed. Can you imagine? My grandfather said that his only vacation growing up was to step out on the fire escape. Unlike most of his boyhood friends, he was very sensitive to the feelings of others. My grandfather has told this story, where the members of the street gang he belonged to were asked, for good luck, to rub the back of one of the boys who had a deformed spine, prior to fighting another street gang. Feeling sorry for this handicapped boy, my grandfather refused. Like Captain America, my grandfather always stood up for the little guy.  Many of Grandpa Jack's friends went on to become gangsters or wind up dead or in prison. He didn't, he chose the path of hard work.  A wonderful example of my grandfather Jack's charitable nature can be seen in an anecdote my father shared with me on many occasions. It took place during the Bar Mitzvah of my grandfather's nephew in a Lower East Side Manhattan synagogue in the early 1960's. After the service, his nephew's family, being of modest means, had just a simple buffet served in the large entrance foyer of the synagogue. Noticing a homeless man standing in the open doorway, just looking in at the celebration, my grandfather Jack immediately walked over to the man, took him by the arm, led him into the room, sat him down at a table and served him a plate of food. Not a word was spoken between the two men. My grandfather, himself having grown up in poverty, knew hunger. This act of kindness, typical of my grandfather, inspired me to raise money and awareness for the Hero Initiative, because a charity that helps others in the comic book community and gives aid to those in need exemplifies the devotion my grandfather Jack always had for his fellow man.  As a member of the Jewish community in Thousand Oaks, CA, my grandfather gave generously to various charities as well. My grandfather Jack's generosity was legendary in the comic book industry. He always gave encouragement to budding comic book artists asking for advice. He never turned away a fan! He maintained a public address and phone number available to all. This would be unheard of today! His Thousand Oaks home was famous as a haven for comic book lovers, fans, and those just seeking one of my grandma Roz's famous bologna sandwiches! Over the course of his career, my grandfather received thousands of fan letters, to which he always personally replied.  He never hesitated to draw a sketch or sign an autograph when asked, whether by mail or at his home.  Whether helping the little guy through acts of kindness, charity, or support, my grandpa Jack is my personal Captain America! Marvel.com: Ah, that leads us to ask if you have a favorite Marvel character your grandfather played a role in creating? Jillian Kirby: There are so many characters I enjoy, such as the Silver Surfer, the Incredible Hulk and the Invisible Woman, but if push came to shove, I would pick Captain America as my personal favorite—shout out to co-creator Joe Simon! Cap is everything my grandfather stood for: standing up for the little guy, protecting the weak, and his fierce patriotism was emblematic of America's stand against tyranny during WWII! My grandfather, as a liberal Democrat, always identified with this character, which gives Captain America personal significance to me. I loved seeing Lewis Black mention the iconic CAPTAIN AMERICA COMICS #1 cover showing Cap punching Hitler in the jaw on "The Daily Show"! We miss you Jon Stewart! Marvel.com: Okay, many say they find something new in Jack's art every time they peruse it; do you find that in your own case? What's the most engaging element of it for you?   Jillian Kirby: There are many aspects of my grandfather's artwork that are engaging to me. The use of forced perspective for dramatic effect always wows me and makes his characters seem to jump off the page! Also, being an engineering student, every time I look at one of his technologically based drawings I notice new intricate details in the design of the drawing that I previously overlooked. His black and white pencil sketches truly resonate with me on a personal level because those were my grandfather's original creations and ideas. Even without dialogue, his artwork always seems to tell a story, and I'm sure have served as storyboards for many super hero movies, which he would have loved. As Brent Staples of the New York Times wrote, "He brought in a vibrant, cinematic style to the idiom and revolutionized it several times, working in romance, westerns, fantasy, and the [super hero] genre." Marvel.com: Finally, let's look ahead to the 100th anniversary of Jack's birth, what might we expect from you and the charity? Jillian Kirby: Looking ahead to the future, I'm zeroing in on August 28th, 2017, my grandfather's 100th birthday. Upon reaching my 2015 goal of $20,000 for the Hero Initiative, I will have brought in a total of $50,000 since my campaign's inception in 2012. My target is to raise an additional $50,000 over the next two years. Upon my Grandpa Jack's 100th birthday celebration in 2017, I will hopefully have been able to provide the Hero Initiative with $100,000 for their charitable works. It would also be wonderful to have fundraising events for Kirby4Heroes occurring in all 50 states to benefit the Hero Initiative by 2017. Another one of my goals to honor my Grandpa Jack's legacy is to increase outreach to the younger generation, using school art programs to educate students about my grandfather as an important 20th century American artist. To spread awareness of my grandfather's influence as one of the most preeminent American pop culture artists of the 20th century, seeing his artwork displayed in several major art museums would be another amazing goal, enabling my grandfather and his legacy to be celebrated in the mainstream. As I feel my grandfather was an American Master artist and patriot, I would love to see PBS feature him in one of their inspirational "American Masters" documentaries. In addition, as Washington, DC represents the heart of our political process and my grandfather was a WWII combat veteran and fierce patriot, it would thrill me to see him given the very first posthumous Kennedy Center Honor.
>> read more
Fall Under the Spell of the Scarlet Witch
(Tue, 25 Aug 2015)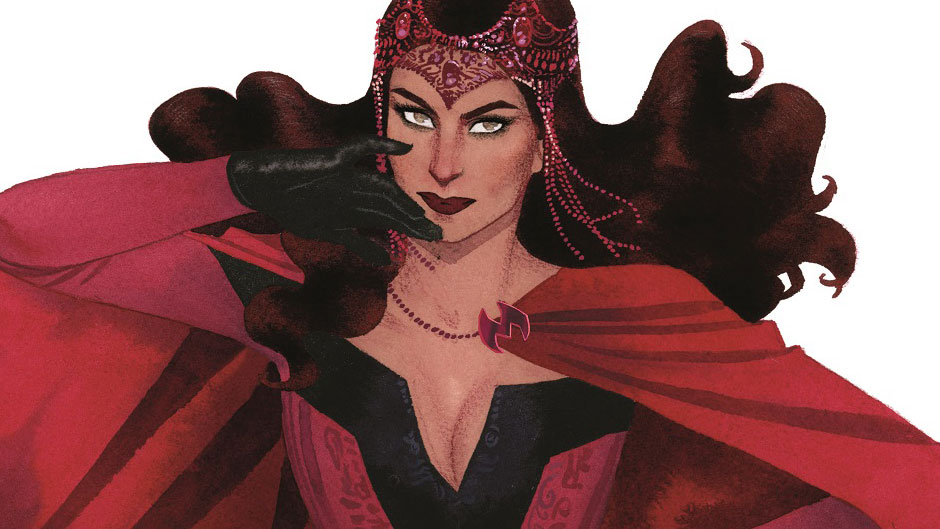 She's been a hero, a villain, an Avenger, and a mom, but this fall the Scarlet Witch will become something she's never been: the star of her own solo ongoing series. Written by James Robinson, the new title will feature Wanda Maximoff as she travels the globe helping other witches  Discussing why he wanted to tackle a Scarlet Witch solo title, Robinson said he's been a fan of for years. "She was one of my first comic book crushes when I was a little boy, much like [she was for] Hawkeye and Captain America when she first joined the Avengers," Robinson confesses. "I was talking about the Scarlet Witch to my editor, Mark Paniccia, and as I was talking, I realized there was this untapped character that really hadn't been used in anything other than a team book." Speaking of Hawkeye, Robinson uses the work of Matt Fraction, David Aja and others in his approach to writing Scarlet Witch. "I was definitely inspired by what Fraction and David Aja have done on
HAWKEYE
—how they managed to stay true to the character in the Avengers while also taking it in a fresh direction, so it wasn't just that same Avengers character doing solo things, which I don't think ever really works for any sustained period of time for any of those second-tier characters," he relates. First introduced as a member of the Brotherhood of Evil Mutants in
UNCANNY X-MEN #4
by Stan Lee and Jack Kirby, Scarlet Witch and her brother Quicksilver would go on to join Earth's Mightiest Heroes in
AVENGERS #16
. Several decades later, her teammates would meet defeat at her hands during the
"Avengers Disassembled"
storyline. And while historically she and her brother thought themselves the mutant offspring of the villainous Magneto, they recently found out in the pages of
UNCANNY AVENGERS
that neither their paternity nor genetics match what they believed. While Robinson doesn't plan to ignore the character's tumultuous history, he doesn't want her to be defined by it. "If you ask most people to describe the personality of any of the main Marvel heroes, any of them—Captain America, The Vision, Hawkeye, The Wasp—fans of those characters can give you, 'Oh, he's this or that. He's this or that,'" the writer says. "She-Hulk, Starfox, you name it, no matter how obscure you go, you can describe them. People can describe the personality of D-Man, for God's sake. But when you get to Wanda, well, what is her personality? She's kind of aloof and quiet?" To many fans, he continues, her history has become what defines her, rather than her personality traits. "Then they start going, 'She was married to The Vision,' or 'She dismantled the Avengers,' or whatever. And to a lot of people her personality is her back story. Who she is as a person, it's all about her back story. There's nothing current about her. There's nothing about her as a human being, as a woman, living in the world, interacting in the world. And I think now that her father's no longer Magneto, I think that it's the perfect time to showcase her as an independent character, as a witch, and give her adventures that are unique to her, that could only be adventures that she would have." While Robinson will respect and accept the Witch's past adventures, he plans to move forward and make her a fresh character of her own, giving Wanda her own identity and a mission that will set the course for the title. "I'm going to give her her own villains, her own supporting cast and her own place in the world," he promises. "She has realized that as much as there's a part of her that will always be an Avenger, she's been sort of living under that umbrella for so long it's become her identity, and she wants her own place in the world."
As for her mission, it starts when the Scarlet Witch realizes that something has broken witchcraft in the Marvel Universe. "She wants to fix it, because it's important to her as a witch," Robinson says, "But [she] also [needs to] discover how it was broken, and if someone broke it, who that was. Also, she suffered from periods of mental instability, and she wants to know if that's something that she needs to treat herself with the established ways that you treat mental illness, or if the practice of witchcraft is affecting her mentally as well. She has a personal stake, as well as a sense of wanting to fix it in the big picture." The writer notes he's also interested in exploring Wanda's powers, both her innate abilities and her magical prowess: "So her brother, his power is he runs fast. That's his birth power. What is her birth power? I'll be explaining what her birth power is that enables her to do this magic." As for her magical abilities, he will differentiate the type of magic Scarlet Witch does from the likes of Doctor Strange and Doctor Voodoo. "I've been talking to [
DOCTOR STRANGE
writer] Jason Aaron about making sure that she isn't just a female Doctor Strange," Robinson shares. "There [are] differences even between her and Doctor Strange so that her magic is different; I'm really making a point of stressing that there's a female energy that connects with a certain kind of magic. As a sort of shorthand, I'm calling it 'witchcraft,' but there are literally areas of dimensions that she can go to that Doctor Strange wouldn't be able to go to, because he's a man." He adds that he's looking forward to exploring the history of witchcraft and tying the Scarlet Witch into it: "I want to make it feel real at the same time that it's in this fantastic world of fantastic characters. I'm definitely doing my research, and I'm just trying to bring a sense of authenticity to those aspects of it." In the course of that, she'll encounter this unique magic in all its forms throughout the world—as well as other witches. "Every instance she'll be jumping from a location to a location," Robinson previews. "Each issue will very much be something you can read as a one-shot, while adding to the big storyline that I'm building towards over the first year, year and a half. And they'll be some fun surprises. Interesting people will pop up in the book that you might not expect." While her travels open the door for plenty of guest stars, Wanda will have one familiar member of her supporting cast along for the journey. "Her regular supporting character will be the ghost of Agatha Harkness, who will act as sort of her spiritual Alfred, so to speak," Robinson reveals "Or spectral, rather—a sort of spectral Alfred, for want of a better word. Her adviser, her confidante, and someone that will make catty comments at her when she's acting like a spoiled brat." Fans might remember that Harkness died during the "Avengers Disassembled" storyline, where she may or may not have been killed by Wanda. "It was kept very vague, and that's something I will be dealing with in the future," Robinson promises. Also expect appearances by the likes Spiral and Russia's Winter Guard, as well as Quicksilver. Like the Mark Waid-written
S.H.I.E.L.D.
, different artists will be brought aboard to draw the different locations Wanda visits; Kevin Wada designed Wanda's wardrobe. "You will see moments with her brother," says Robinson. "There will be other Marvel characters in the future. I've always tried to come up with characters that you wouldn't necessarily expect so that, even then, it'll be fun, and we'll get to see areas of the Marvel Universe you wouldn't necessarily expect to see and characters that you wouldn't necessarily get to see. As the series progresses, it's definitely building toward a truly epic finale." While Robinson remains tight-lipped about revealing too many details about the series, he did offer one final teaser: "We'll also find out why she's called the Scarlet Witch." SCARLET WITCH casts her hex this fall, and
All-New, All-Different Marvel
news keeps coming to Marvel.com and our social channels!
>> read more
Listen to This Week in Marvel 199.5
(Tue, 25 Aug 2015)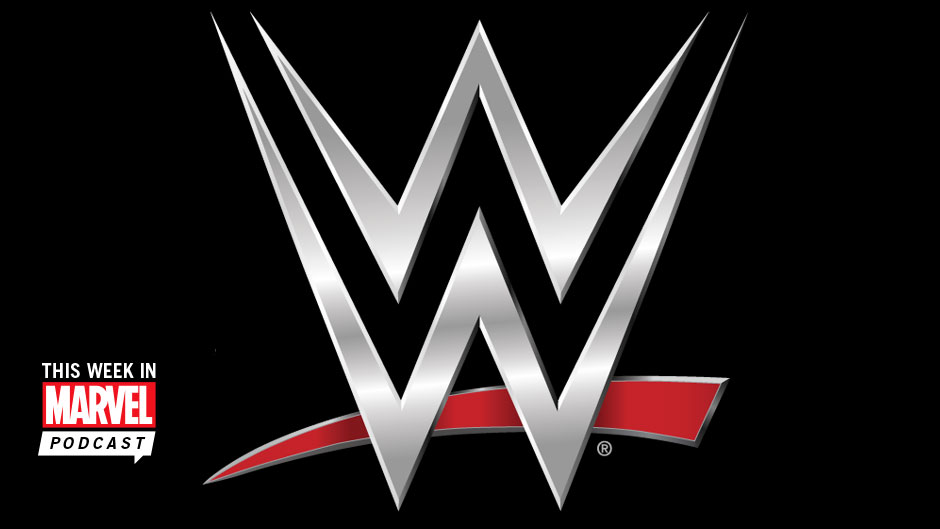 It's an action packed episode with WWE Superstars where Ryan chats with
Stone Cold Steve Austin
,
Finn Bálor
,
The Bella Twins
,
Xavier Woods
,
Seth Rollins
,
Titus O'Neil
and
Darren Young
of The Prime Time Players and
The Miz
while Blake speaks with music artist
Fabolous
,
Stephanie McMahon
and
Lilian Garcia
!
Download episode #199.5 of This Week in Marvel from Marvel.com
, 
grab the TWiM RSS feed
 and 
subscribe to This Week in Marvel on iTunes
 so you never miss an episode! See photos from the events below!
This Week in Marvel will focus on delivering all the Marvel info on news and new releases--from comics to video games to toys to TV to film and beyond! New episodes will be released every Tuesday and Thursday (or so) and TWiM is co-hosted by Marvel Digital Media Group Executive Editorial Director Ryan "Agent M" Penagos and Marvel.com Senior Editor Ben Morse with Manager, Video & Content Production Blake Garris, Editor Marc Strom, and Assistant Editor Patrick Cavanaugh. We also want your feedback, as well as questions for us to answer on future episodes! Tweet your questions, comments and thoughts about TWiM to 
@AgentM
, 
@BenJMorse
, 
@blakegarris
or 
@Marvel
 with the
 hashtag #ThisWeekinMarvel
!
>> read more
Nova: A Family Affair
(Mon, 24 Aug 2015)
Writer Sean Ryan's upcoming NOVA series opens a realm of seemingly endless opportunities for Sam Alexander—aka the newest Nova—given his reunited family. Nothing can beat a father-son Nova Corps. Ryan has plenty of surprises and character moments which employ the vast array of talent that artist Cory Smith possesses in store. The writer teases us with the nature of wonders he plans for Sam! Marvel.com: What have you enjoyed most about seeing artist Cory Smith bring your script to life? Sean Ryan: Part of this is a simple answer in the fact I don't know how to draw at all, so anytime I ever see anyone draw anything I write, it's always amazing to me. It's always like a magic trick. I think for me, because a lot of it is trying to get some more subtle emotions down, especially between Sam and his mom and his dad. When I write in a script "Sam sort of feels this way but he's trying to hide that a little bit," like he's nervous about something but he's trying to hide that he's nervous, those kinds of things are difficult. When I see the artwork come in and he nails those things, those are the things that are always really amazing to me. His action scenes where Nova's flying around are awesome but when you can nail those subtle emotional things, it's always great to see that stuff because then you know you can push that even further going forward. Marvel.com: It's as if the small moments matter as much as the action scenes. Sean Ryan: Yeah, like the little things such as "Just the way you draw his eye there captures everything," so it's great. And he's been doing a great job with that. I'm very lucky to have Cory Smith. Marvel.com: Is there some emotional resonance that you're trying to achieve given that Sam's dad is back? Sean Ryan: With the mom, for sure. Dad's back but then they're both being Novas so you have this woman who is happy that she has the father back and her son but then they're both out being Novas; she lives in this kind of world of worry a lot. We're playing with the idea that she's proud of them but also nervous for them because who knows what's going to happen out there? Or, you know, this guy was gone for so long and now he's back but being Nova again—like there's a scene in the first issue where she's just waiting at home watching the clock waiting for them to come home because she never knows. Marvel.com: Not only do you get to write the adventures of Sam as Nova, you also get to reunite him with his father; what is the best part about exploring those creative dynamics of a Nova Corps duo? Sean Ryan: So far, so pretty good. I'm trying to think because it's been fun to give Sam someone else that has the same powers as him and someone [who] can fight alongside him. Right now in the first issue or so, the main thing is that it's fun and he likes it. It's just like "Wow, this is so great. My dad's back. He's a Nova, too. We've got the same stuff going on." His dad is using his old yellow Nova helmet from before he joined the Black Novas. We see in the first issue that the helmet's not working as well as it used to. Sam likes having his dad there, but the helmet's kind of wonky thus there are moments where Sam has to step up and help his dad when he's not doing as well. It's kind of interesting to see the kid who has to step in and be the one who has to save his dad's skin sometimes. Marvel.com: It's a like a cosmic version of playing catch with your dad. Sean Ryan: That's a good way of putting it. Marvel.com: Can you give a hint if you plan on working some surprises into issue #1? Sean Ryan: I don't want to give anything too much away but there's definitely a big thing at the end of issue #1. What I like about issue #1 is that it sets up the new status quo and it makes things seems like everything is going really well for the Alexander family. The first issue is called "Beneath the Surface," and the idea is everything seems great and then right at the end of the issue, we hit that "Oh, crap." This kind of new status quo we're setting up is great but, just beneath the surface, things are not as they seem. Marvel.com: Now that Sam is an Avenger, does that mean that we might see a few fellow heroes helping Sam out along the way? Sean Ryan: For sure. By issue #3, we're going to see him over with the Avengers. We're still figuring out the logistics of it because we have to deal with Mark [Waid] writing
AVENGERS
, Willow [Wilson] writing
MS. MARVEL
and Brian [Bendis] writing
SPIDER-MAN
, thus there are a lot of spinning plates. But we will definitely have Miles [Morales] and Ms. Marvel, definitely have those guys showing up. I'm interested in doing this because they're so new and just to get a chance to write those new characters would be really cool. And the fact that they're the same age as Sam and can deal with him that way, that'll be exciting. Definitely those two will be involved in Sam's journey. It'll be fun to write him as an Avenger because it's a new thing for Sam to be dealing with as well. It's like a very strange after-school activity.
Marvel.com: Any chance you can elaborate on what happens when two Novas are trying to police their unique beat? Sean Ryan: Basically with the two of them together, what's kind of nice, as you'll see in the first issue, is that Sam's dad can be patrolling or doing something and if he needs help he can call Sam or vice versa. With his Dad there to help with the Nova duties, Sam has some more free time to do better at school or hang out with his friends more. What's nice for Sam, in the beginning, is that having his dad there gives him a relief to do some more stuff that he would be able to do as a kid. Sam's finally catching a break, and it's kind of nice that they've got each other's back in that regard. When something big happens and his dad's on patrol, he can call Sam in for help but we'll see in the first issue that Sam's not perfect and is at a movie with his friends. Now he's not always on as Nova which is, I think for Sam, is nice, but there will be consequences. Marvel.com: With Sam's burden slightly eased with his father to share the hero load it seems like the new status quo has the readers excited? Sean Ryan: Yes, absolutely! People seem to dig that his dad's back and Sam's an Avenger now. But don't get too comfortable, readers! Not everything is what it seems and how Sam deals with that is a big part of our story. And so [is], you know, dealing with being a super hero. We're introducing a group of friends for him as well! I like the idea of having these friends that he can have as a release valve from being a super hero, but at the same time, when the super hero stuff starts getting more and more intense, how he has to distance himself from those friends and what that sort of difficulty is like for a 15-year-old. It's funny when you read comics as a kid and they're about kids you go, "Oh yeah, this seems normal." And now as an adult the idea that he's this 15-year-old kid you're like, "That's crazy." A 15-year-old kid doing this stuff kind of blows your mind. I really wanted it to hit home that he's just this kid who has way crazy responsibilities. NOVA by Sean Ryan and Cory Smith blasts off this fall, while fresh
All-New, All-Different Marvel
continues to hit Marvel.com and our social channels!
>> read more
Ep 59 - Lady Lawyers: Marvel's Own Daredevils
(Mon, 24 Aug 2015)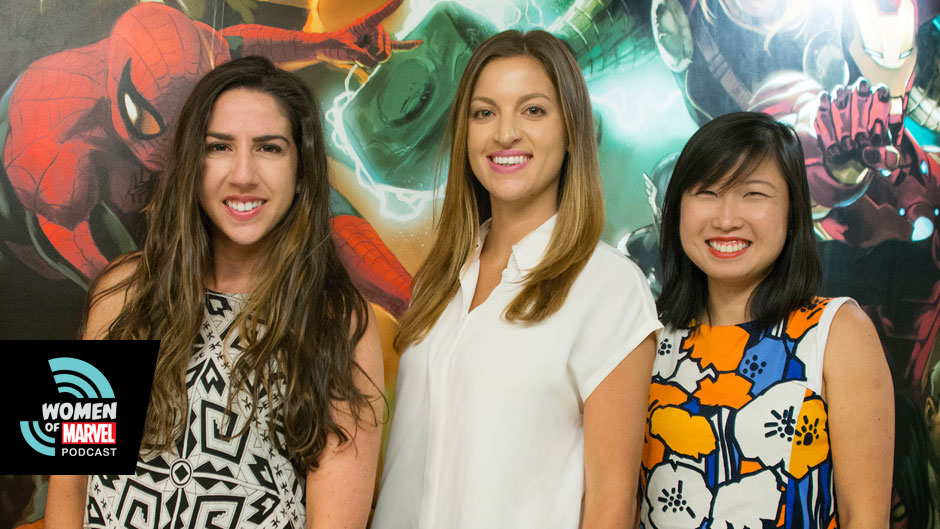 Join the Women of Marvel as we welcome our own Lady Lawyers, Di Li, Stacy Adelman and Kate Hayes to the podcast as we chat digital law, working at Marvel, cats and more!
Listen to Women of Marvel - Episode 59 now!
As always, if you have questions for us, please email them to WomenOf@Marvel.com or tweet them to @Marvel with #WomenofMarvel. The Women of Marvel podcast will assemble to chat all things Marvel and more! New episodes will be released every Friday, co-hosted by Marvel Digital Media Group Social Media Manager Adri Cowan and Marvel.com Producer Judy Stephens, along with Marvel Director, Content & Character Development Sana Amanat and Marvel Comics Editor Emily Shaw. We also want your feedback, as well as questions for us to answer on future episodes! Tweet your questions, comments and thoughts about Women of Marvel to 
@AdriCowan
, 
@Omg_Dj_Judy
, 
@MiniB622
,
@Emily_ShawShaw
 or 
@Marvel
 with the hashtag #WomenOfMarvel! Make sure to visit and follow the Women of Marvel Tumblr page: 
http://thewomenofmarvelcomics.tumblr.com
And Instagram at 
Instagram.com/TheWomenOfMarvel
>> read more
Old Man Logan Comes to Town
(Fri, 21 Aug 2015)
When OLD MAN LOGAN returns after
Secret Wars
, there will be new adventures to tackle. The creative team of Jeff Lemire and Andrea Sorrentino will take on the classic Wolverine story, exploring the life of the ol' Canucklehead and setting him on a path that will bridge the gap between the past and the present. We talked to Lemire and Sorrentino about their creation and approach to OLD MAN LOGAN, which will launch an all-new all-different #1 issue this fall. Marvel.com: What influenced you when you sat down to write OLD MAN LOGAN? The character itself certainly has enough history to draw from, but was there something specific that drew you to his story? Jeff Lemire: To be perfectly honest, it was the chance to work with artist Andrea Sorrentino and colorist Marcelo Maiolo again that initially drew me to OLD MAN LOGAN. The three of us had worked together in the past on Green Arrow at DC with great success and we were all eager to collaborate again and not only match what we've done in the past, but surpass it with OLD MAN LOGAN. On top of that Wolverine has always been a favorite character of mine. As a Canadian I've always been drawn to the ol' Canucklehead—or in this case the really ol' Canucklehead. I love
the original Mark Millar Old Man Logan story
and I love
what Brian Bendis is doing
in Secret Wars. Old Man Logan is a fantastic character and he casts a new light on all of the old Wolverine tropes and relationships. I am really excitement by the potential of this character in the present day Marvel Universe both in his solo series and in EXTRAORDINARY X-MEN, which I'm also writing. Marvel.com: So OLD MAN LOGAN will take place after Secret Wars. Can you talk about the character that we'll see with this new #1, or any changes that have happened since going through all the events of the current story?  Jeff Lemire: Not really. I don't want to spoil our story. All I can say is that this is the same man we saw in the Mark Millar story and the Bendis story. But now he's here and everything he knew has been ripped out from under him again. Old Man Logan has a few scores to settle. Marvel.com: The previous run of Old Man Logan had him traveling to different territories—almost a road trip of sorts. I know we're getting flashbacks, but will this book follow a similar path? Jeff Lemire: We won't see Logan traveling to any other "territories" but we will see him brush up against almost every corner of the All-New Marvel U. There will be guest stars aplenty in our opening arc, and not all of those encounters will be friendly. Marvel.com: Speaking of flashbacks, what are you most excited to explore about his past? Jeff Lemire: I think there is still a lot of material left to be mined from Logan's past—or future—in flashbacks; particularly the time before the events of Mark Millar's story where I will explore Logan's relationship with his wife and children more. I want the reader to feel even more what this man has lost. Marvel.com: With the continuation of this book, will we get to see Old Man Logan interact with any younger heroes, or new heroes of this universe? Jeff Lemire: Yes to both! No spoilers, but we will see a new spin on an old fan favorite Logan fight in issue #2. Marvel.com: What can you tease about where we'll pick up with OLD MAN LOGAN when the new series starts up? Jeff Lemire: Times Square. Naked and hairy Old Man Logan on the run.
Marvel.com: Andrea, you're up: You worked on this book with Brian Michael Bendis during Secret Wars, and now you get to continue to work on it. What have you loved the most about bringing OLD MAN LOGAN to life? Andrea Sorrentino: Oh, it has been awesome. First of all because Wolverine is one of my favorite Marvel characters, and second because I've always thought that the beaten, bitten, melancholic side of the character is what makes him an interesting and different character. It's not his feral rage or the claws that makes him a great character. It's the fact that he's a survivor. He's a man who lived for more than a century and has seen parents, friends, and lovers get old and die in front of his eyes. Life has thrown at him incredibly terrible things, but he's still there, trying to follow the right path and to do the right thing no matter what. And his Old Man version is probably the one that exemplifies this aspect more than ever. It has been a huge gift from Marvel to let me work on him. Marvel.com: What have been your favorite moments to draw so far? Andrea Sorrentino: Well, while I love action scenes and in general sequences that let me try something new in terms of storytelling and pace, I have to admit I have a soft spot for the calmer, moodier scenes; the ones where you go deep with characters humanity—and in which Brian is a master. From this point of view, I'd to say my favorite scene is probably the one where Logan meets with Emma in
issue #1
. We've been used to seeing Emma Frost as a cold, strong, superb woman, but in that specific moment, at the very end of her life, it's like you can see her fragility, her scars, her human side. It's such an awesome character moment. Marvel.com: The new #1 will deal with flashbacks as well as the present day. Is there a certain way you're differentiating your art as you switch between time periods, or was that a style that you already had prepared when you came to this book? Andrea Sorrentino: I'm already talking with my faithful colorist Marcelo Maiolo in order to set different tones and approach between the flashbacks in the OLD MAN LOGAN "universe" and the main part of the books which is set in the main Marvel Universe. It's going to be a challenge because as much as I want to go "weird" for the flashbacks, I've got the feeling Jeff wants to write a big amount of sequences in the OLD MAN LOGAN universe. So we've to find a good equilibrium. Anyway, I personally love these kinds of challenges, so it's gonna be a great fun. Marvel.com: What has your experience been working with Jeff's script? Can you talk a little bit about how that collaboration has been? Andrea Sorrentino: As people may know, I already worked with Jeff in past and I can honestly say that he's a passionate, dedicated, and incredibly talented writer. Seriously, there aren't many other writers who can deal with character-work as deep and natural as Jeff does and I think you're going to find out in the pages of OLD MAN LOGAN. Also, working with him seems to boost each other creativity in some way, so it's going to be great to work with him again! Marvel.com: I love how OLD MAN LOGAN is almost apocalyptic in a way, with its dystopian colors and settings. Can you talk about what inspired you to depict his world in that way? Andrea Sorrentino:  [Laughs] I'd say it's just something I can't help about. My approach on creative things always tends to have a melancholic, gritty and dystopian approach, even when I don't want it! And while I'm not a pessimistic or negative person at all, I tend to throw out all my nihilistic and moody side when I have to visualize or draw something. It's stronger than me! So, well, I guess drawing a dystopian future where all the hope is lost and everyone is beaten and lost, was really the best thing Marvel could throw at me; I know, it's so sad! OLD MAN LOGAN explores the Marvel Universe this fall, and the latest
All-New, All-Different Marvel
news keeps coming your way courtesy of Marvel.com and our social channels!
>> read more
Spider-Man 2099: Future Shock
(Fri, 21 Aug 2015)
With
Secret Wars
altering the Marvel Universe forever, it stands to reason that what we think we know about the future may be called into question as well. This fall, fans can expect Peter David and Wil Sliney to return to SPIDER-MAN 2099 for another run alongside title character Miguel O'Hara as he finds a new home at Parker Industries while continuing his role as the once and future Spider-Man! We sat down to talk with both creators about the changes in SPIDER-MAN 2099 and what fans can expect. Marvel.com: In the wake of the chaos that was
Spider-Verse
, Miguel O'Hara found himself back in the present day Marvel Universe just before Secret Wars. Can you catch us up to speed from this point to where you'll be picking up his story in SPIDER-MAN 2099? Peter David: Eight months will have passed between the end of Secret Wars and the beginning of SPIDER-MAN 2099. In that time, Miguel will have left the employ of Alchemax and started working for Parker Industries. He will have begun a relationship with Tempest and pretty much given up the role of Spider-Man. He's at a very strange point in his life:  he's genuinely happy.  So you know that won't last. Will Sliney: Secret Wars was a great way to see another side of Miguel [in
SECRET WARS 2099
], but we are right back with our Miguel of the previous series. The big change visually, of course, is the new suit. Something I am having a lot of fun drawing. Marvel.com: Can you talk a little about what drew you to this title and why you wanted to keep telling Miguel's story? Peter David: They asked me. It's really not much more involved than that. They said, "We want to continue
the title
" and I said, "I'm in!" Will Sliney: I've always been a huge Spider-Man fan, and SPIDER-MAN 2099 always seemed to be the artist's choice of Spidey, as we all loved drawing the edginess in the character. So, when I got the call to work on the series initially, I was thrilled. I remember sitting with a roundtable of artists many years before we brought Miggy back, and each artist was talking about how much they would love to draw this book. Now that our story carries on, I believe we are building something really great here. Simply put, it's a story that I really want to know more of myself. Oh, and the fact that he is half-Irish always helps for me, too. Marvel.com: I'm sure you've already been hard at work putting this series' first issues together. Has it been different from your previous collaborations or do you find working on this volume of SPIDER-MAN 2099 is fairly similar to before? Peter David: Fairly similar, although it's been great working with Will. He's so clever and so innovative. Will Sliney: From the artistic side of things, it feels like a lot more of Miguel's new world is built up, so I can draw from more within the universe when creating new characters or designing more environments. As for drawing the book itself, it is just business as usual. I have my head down and I am working hard to make it the best-looking book that I can. Marvel.com: As a brilliant scientist, what role do you see Miguel taking on especially given Peter Parker's being CEO of Parker Industries and what sort of conflict do you see arising with Alchemax? Peter David: Miguel is actually pursuing his research into restoring 2099. He's doing it secretly; the only person who knows what he's up to is Peter. That's where most of his scientific endeavors are focused, at least at first. Events will occur, however, that will turn his research in a different direction, including some that Peter won't necessarily approve of. Will Sliney: [Much] of our earlier series did take place at Alchemax, so it's nice to flip things up to Parker Industries. Any place that is run by Peter Parker, no matter how big it gets, will be allowed to have more of a fun-natured design to it. So this can play straight off against Alchemax, which to me is the colder building of the two.
Marvel.com: What sort of adversaries can we expect Miguel to face? Are there conflicts that will follow Miguel out of Secret Wars? Peter David: Can't tell you. Top secret. Will Sliney: Well, [Scorpion] is back. I had a lot of fun designing his costume in the earlier series, so I'm sure we will see it in action again. Aesthetically, for Miguel, his life will go off in a different direction than before, so I want to have that reflect on him. There are some very important reasons why he dons the new suit, too, so that will all influence the way that I draw him moving and fighting. Marvel.com: Are there any other aspects of the status quo that are changing for Miguel? Peter David: There are going to be some aspects to his costume that will be changing, giving him abilities that he didn't previously possess but that will still be spider-related. Will Sliney: Kris Anka has designed an incredible looking new suit for Miguel. If you look at the upcoming design variant cover for Issue #1, you can spot a few of the new elements to the suit that already change things up quite a bit for Miguel. Marvel.com: Last question: What is one thing that the other person brought to this story that either surprised you the most or that has you most excited about?  Peter David: Will's storytelling ability. I've just watched it improve from one issue to the next. Will Sliney: We knew going into this that Peter was the only person who could write this book. Basically, the fans demanded it, so I am just honored to be a part of it. What's been great is that I've been lucky enough to get to know Peter over the course of a few conventions too so that has been an added bonus. I'm always excited to get a new script in for each issue. I was literally bursting out laughing at the pure fun nature of the first few pages of issue one; you will see why soon. Join the fight for the future in SPIDER-MAN 2099 this fall, and stay tuned to Marvel.com and our social channels for the latest updates on
All-New, All-Different Marvel
!
>> read more
Hercules Rewrites His Own Legend
(Fri, 21 Aug 2015)
He's the world's first super hero, and he's here to make sure everyone knows it. Writer Dan Abnett and artist Luke Ross will be getting all Olympian with HERCULES, a new ongoing series spotlighting the return of everyone's favorite legend in a loincloth. Herc's bound and determined to prove himself worthy of such an honor—even if it means he's got to pound a few heads to do it. Here's Abnett to explain what's in store for readers… Marvel.com: Dan, what's the new series like? What does it tell us about Hercules? Dan Abnett: Herc's lived, like, forever. He has a huge adventure, a massive struggle or test or trial, [and then] once he's victorious, he kicks back and celebrates. To us, that would be a few days off. To Herc, the immortal, that could be a few decades. What if the Herc we've known in the Marvel Universe so far has been that Herc, the one who's kicking back, enjoying life, enjoying being famous and sought after. What happens when he decides it's time to sober up, put his game face on, and remind the world exactly why he is the first and greatest hero of all?  Marvel.com: So, it's like a comeback of sorts; how does the general populace view him? Dan Abnett: Well, as the very strong guy in sandals who looks and acts like a bit of a joke and a liability, and keeps cropping up on the gossip pages getting in trouble with drunken antics and rock star behavior. Herc loves to have fun, but he's beginning to resent what all the world sees in him. No one's been around long enough to remember what Hercules is, and has been. There's a reason he's a legend.  Marvel.com: What might you reveal about our hero that we haven't known before? Dan Abnett: His skills. He's amazingly proficient and skilled. He's a warrior and a hunter and he's learned fighting and hunting skills from the warriors and soldiers he's served with down through the ages.  Any weapon, he knows how to use it because he's bothered to learn. He keeps up with the times; he's not stuck in the past. And he is much, much smarter than he lets on.
Marvel.com: What kind of supporting cast will HERCULES have? Familiar faces? New characters? Dan Abnett: Essentially, a new cast to begin with: his landlady, Sophia, and his [roommate]. Some guy called Gilgamesh, who needs a place to crash. But familiar faces will appear. I am not going to ignore or deny anything that's come before.  Marvel.com: What about Herc's adversaries here? What kind of new trials will he face? Dan Abnett: Again, like his friends, threats ancient and modern. New imaginings of mythological threats, classic villains, brand new foes. Old and new, that's the theme here; the clash between the ancient past of mythology and the unstoppable rise of the modern era.  Marvel.com: Will the Avengers figure into the book? How does Herc look back on his time as one of them? Dan Abnett: I would be very surprised if the Avengers didn't show up. He considers them noble allies and friends, but he's doing this his own way now.  Marvel.com: And how is Luke Ross the perfect artist for this series? Dan Abnett: Luke's great. He's brilliant at the big action and the monumental dynamic power of major superhero and mythological stuff, but he's also superb at creating a realistic, authentic world, and that should really ground the fantastical elements of this story. HERCULES proves the worth of the world's first hero this fall, and the
All-New, All-Different Marvel
news keeps coming via Marvel.com and our social channels!
>> read more
Download Episode 199 of This Week in Marvel
(Thu, 20 Aug 2015)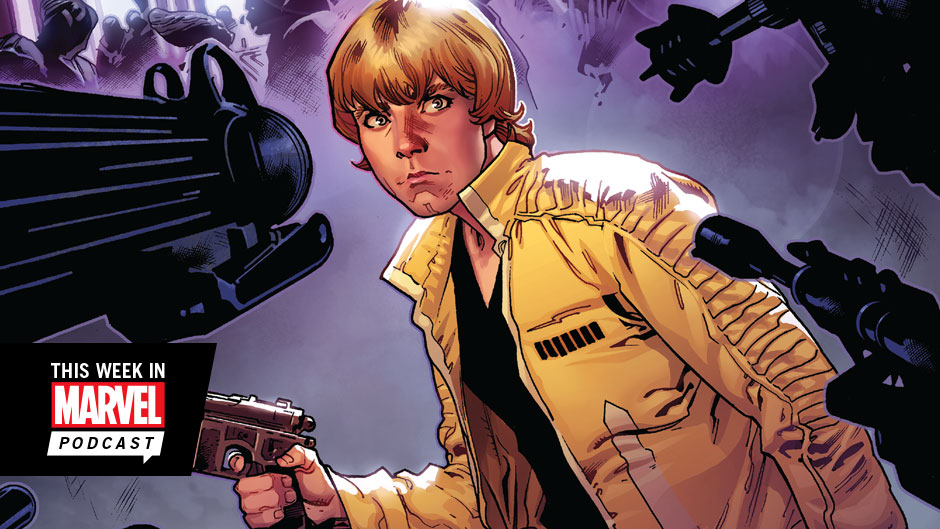 Ryan talks the latest comics (
STAR WARS
,
LOKI: AGENT OF ASGARD
,
SECRET WARS: SECRET LOVE
), he and Blake interview the influental punk band
Death
, Marc gives you the most recent Marvel news and much more!
Download episode #199 of This Week in Marvel from Marvel.com
, check out 
Marvel Podcast Central
, 
grab the TWiM RSS feed
 and 
subscribe to This Week in Marvel on iTunes
, so you never miss an episode!
This Week in Marvel will focus on delivering all the Marvel info on news and new releases--from comics to video games to toys to TV to film and beyond! New episodes will be released every Thursday (or so) and TWiM is co-hosted by Marvel Digital Media Group Executive Editorial Director Ryan "Agent M" Penagos and Marvel.com Senior Editor Ben Morse, along with Marvel.com Editor Marc Strom, Marvel.com Assistant Editor Patrick Cavanaugh, and Manager of Video & Content Production Blake Garris. We also want your feedback, as well as questions for us to answer on future episodes! Tweet your questions, comments and thoughts about TWiM to 
@Agent_M
, 
@BenJMorse
 or 
@Marvel
 with the hashtag 
#ThisWeekinMarvel
!
>> read more
Guardians of the Galaxy Re-Assembled
(Thu, 20 Aug 2015)
When it comes to swashbuckling sci-fi adventure, comic readers need only to look to GUARDIANS OF THE GALAXY for their monthly fix. In the wake of
Secret Wars
, writer Brian Michael Bendis and artist Valerio Schiti promise even more outlandish intergalactic fun including new worlds to explore, the departure of old members, and the arrival of new Guardians. We sat down with the interstellar duo to talk about some of these changes and how they're handling them from a creative standpoint. So, sitdown, strap in, and prepare for lift off! Marvel.com: Brian and Valerio, last we left off in
GUARDIANS OF THE GALAXY #27
, it seemed like the Guardians were coming apart at the seams. Gamora became a sort of cosmic-powered demi-god of war and Peter Quill found himself elected king of the Spartax, not to mention facing what might be his great challenge of all: marriage! Where do we see the rest of team go from here? Brian Michael Bendis: As has been reported, the Marvel Universe is not the same place it was before Secret Wars started. So, while there are some elements of our previous run that we will follow up on, like the ones you mentioned, there are many other story elements and characters that will be in a very different place physically, emotionally, and cosmically. This is a brand-new chapter for GUARDIANS OF THE GALAXY. Things are very different all over the cosmic map. Even before Secret Wars, entire empires had fallen, entire planets had been destroyed, and heroes had been tested and changed. Valerio Schiti: We are moving forward almost exactly from where we stopped in issue #27, trying to answer to all the questions that you asked us and more. The galaxy is still a mess, our heroes are dealing with the consequences of their decisions, and there're a couple of major "problems" to face soon; something very big is coming. Marvel.com: With Star-Lord out of the picture, who will be filling in as the de facto leader for the team? How will this change the group dynamic? Brian Michael Bendis: The raccoon is in charge!! So says the solicitation!! So says the raccoon!! But, there may be other people on the team who are not taking this as seriously has he would like. Valerio Schiti: The raccoon is in charge now! This is the moment I waited for since the beginning of my run on this book. Marvel.com: Looking back at Gamora, she left the team out of fear of putting her friends into even greater danger and then left in search of her father, Thanos. What directions are you looking to explore for her? Brian Michael Bendis: This is a big spoiler so I'm going to say: big spoiler!! But when Gamora finds a way back into the book, it will be a surprise. Marvel.com: Then there's the roguish Peter Quill, whose narrative seems to be placing him in positions of immense responsibility—not so dissimilar to Han Solo, another scruffy galactic starfighter who found himself rising up in station. Are we looking at a similar trajectory for Star-Lord or can we expect something different? Brian Michael Bendis: Well, I can honestly tell you what happens to Peter in the first issues of GUARDIANS OF THE GALAXY never happened to Han Solo. What we have with Peter is a very unique perspective on the galaxy and its ever-changing dynamic. Plus his quest, his hero's quest, is always evolving. This is the next chapter of that journey. Valerio Schiti: I tried to show Peter's changes with a new design. He's the same person, of course, but the new garments, the uniform, the haircut, everything is different and somehow a bit "wrong." Does he like it or not? I still can't talk about it just yet but he's definitely not the Star-Lord that we used to know. Marvel.com: Valerio, with the All-New, All-Different initiative, many creators are taking advantage of this reboot to give characters a bit of a redesign. What sort of changes do you have in mind for the members of the Guardians of the Galaxy? Valerio Schiti: I was so excited to have the chance to do the redesign of our characters. I already provided Venom and Groot with new looks, and now you'll see some new outfits for Rocket and Drax. And there are two brand new characters, too: the Thing and the new Star-Lord. They're all pretty different, but in general, I tried to design some cool multifunctional clothes; something good for wearing in everyday life as well as for fighting in outer space. They're pirates, pilots, mechanics, and warriors. They don't need super hero costumes: they need useful stuff.   I also think that the Guardians shouldn't have proper uniforms because they're not soldiers. That's why I like to show different ways to wear their new clothes and, moving ahead with the books, maybe some new and cool stuff.
Marvel.com: What are some of the other ramifications from Secret Wars for the other members of the team that you can share with us? Brian Michael Bendis: Well, as you can tell, the Thing is on the team. Ben's first dream was to be an astronaut, and he finally got his wish. Also, placing him in space makes him less of a creature and more normal to his surroundings. It'll be interesting to see that play out. And wearing pants. [Laughs] Venom is also still on the team with new, yet undefined powers. And we have the the mystery of the new Star-Lord—with a very frustrated Rocket. Marvel.com: We often see the Guardians interact with many of the other super hero teams within the Marvel Universe, especially the Avengers. Do you see this interconnectivity between the different series continuing or do you envision this series taking on a more independent, stand alone place within Marvel's All-New lineup? Brian Michael Bendis: Big goings on for the team. They are going to meet a lot of new friends and enemies. Also, some new villains that debuted in
GUARDIANS OF KNOWHERE
will be crashing into the book. Let's just say the Guardians aren't the only band of pirate super heroes in the galaxy. Valerio Schiti: The Guardians are an essential part of Marvel Universe and I really hope that they'll be still connected with other characters. At least, I hope so because I really love to draw all kind of different Marvel characters in my style! Marvel.com: Given what's come before and what's to come, who's your favorite character on the roster and why? Valerio Schiti: I'm very happy to draw the Thing now but my heart is tied to Rocket. Brian Michael Bendis: I truly love them all but there is something very unique about writing a full-fledged character with many complex emotions and powerful nobility—and all I'm allowed to write as his dialogue is: "I am Groot." For someone who can really dig in with the back-and-forth dialogue, I find this very inspiring. And with the right artist like Valerio, a lot can be expressed with very little. Marvel.com: Brian, you've been working on GUARDIANS OF THE GALAXY for a few years now. What sort of plot developments are you most looking forward to exploring in this new period? Brian Michael Bendis: I told Valerio that with this new volume we have an opportunity to amplify everything about the book: The look, the drama, the comedy, the cast, and the romance. What I have discovered is that people who like GUARDIANS OF THE GALAXY like to be surprised. They literally don't know what we're capable of with these characters and want to be surprised. And we are more than ready and willing. Marvel.com: Likewise, Valerio, this isn't your first time around the block with Marvel's preeminent intergalactic super team. What about the all-new, all-different GUARDIANS OF THE GALAXY has you most excited? Valerio Schiti: I'm really excited about this new start and, as an artist, I think that the most exciting thing is that I'll have the opportunity to do my design of the whole team. I love this book, this kind of science fiction in general, and of course, I love these characters. They are bigger and older than me, they're important for a lot of people, and usually, we artists are just the guys going with them for a little while. The readers like the stories and the art, but the real, deep love is for the characters. We have to respect them, so it's not often there's a chance to change them somehow. It's a privilege. So, when Marvel gave me this opportunity to do something new, to leave my mark on these great characters and help Brian to take them to the next level, it was something really huge for me! GUARDIANS OF THE GALAXY blasts off this fall, and the
All-New All-Different Marvel
news keeps coming on Marvel.com and our social channels!
>> read more
Moon Girl and Devil Dinosaur: A Team-Up for the Ages
(Wed, 19 Aug 2015)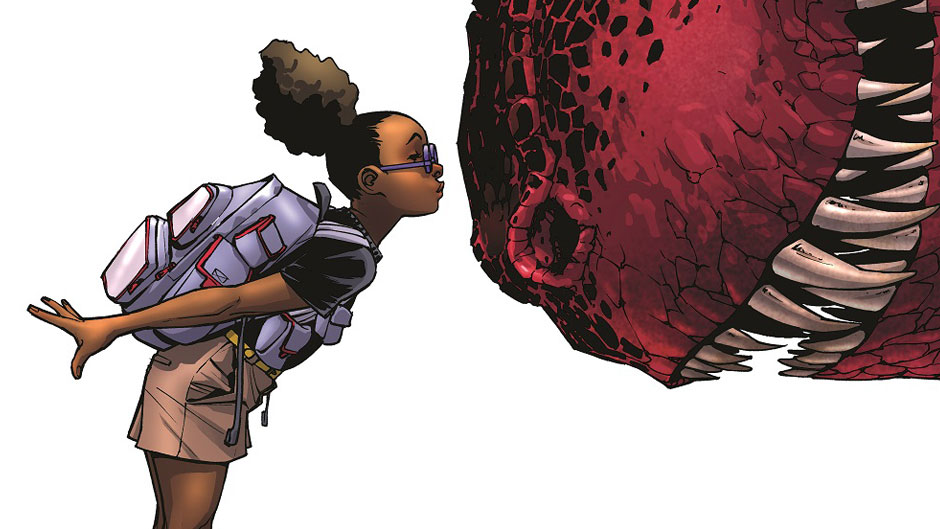 Sometime it takes a titanic team-up of creators to tackle an equally potent pairing of characters old and new. That's why the Marvel Universe's newest Inhuman and a legendary lizard require the combined efforts of writers Amy Reeder and Brandon Montclare, and artist Natacha Bustos. In MOON GIRL AND DEVIL DINOSAUR, preteen genius Lunella Lafayette faces her fears of life as an Inhuman by channeling her energies into an even greater mystery: Devil Dinosaur in the present day! Marvel.com: Amy and Brandon, how did the series come about? What were your initial thoughts on what it could be? Amy Reeder: Brandon and I have had a great creative partnership with [our series] Rocket Girl. Editor Mark Paniccia and his assistant Emily Shaw were enthusiastic about us doing something at Marvel. We might have talked about other characters, but Devil Dinosaur was floated out there early. Brandon loves working with the less-used properties, and was immediately excited—and being able to develop a "Moon Girl" got me excited! I had a prototype of a character I'd [wanted] to do and she fit right into this role. Brandon Montclare: And that's the recipe for success. This story appeals foremost to the two of us, our editors, and now our artist Natacha Bustos. We're happy that so many people are looking forward to this! When you read MOON GIRL AND DEVIL DINOSAUR, it's exactly what we all want it to be. We got to focus on all the existing elements that appealed to us, and to supplement it with any new idea that we thought forwarded the story. There was no compromise, and I really appreciate Marvel for fostering that creative freedom.  Marvel.com: Who is Lunella to you? What sort of person is she and wants to be? Amy Reeder: Lunella is quite the little genius and has a bit of an obsession with electronics; she builds things, which comes in handy when solving any problems that come her way. But as we all know, being the smart kid can be pretty alienating when you're young; she doesn't really fit in. Thank god for dinosaurs! Brandon Montclare: Lunella Lafayette is at the age right before adolescence. She's still a kid and not yet on the path to adulthood. And in truth, she doesn't want to grow up. She doesn't want to change. This is amplified in the story because she carries the Inhuman gene, which means she will transform into something totally different if exposed to the unpredictable Terrigen cloud.  Marvel.com, Okay, so what weight will you give that Inhuman change in the ongoing story? What will it mean to her?  Brandon Montclare: The Terrigen transformation is the last thing Lunella wants to happen. The possibility terrifies her. It's far worse than the caveman threat that follows Devil Dinosaur into the present. So when this series launches, avoiding contact with the Terrigen and finding a way to neutralize her Inhuman parts is her main conflict. Amy Reeder: Lunella really values her intellect and truthfully wants others to recognize it as well. To her, having powers somehow undoes all the cool things she can already do; she sees her smarts as her true identity. Marvel.com: What transpires to bring Devil to Lunella? And what will their initial meeting be like? Brandon Montclare: Lunella is researching ways to prevent Inhuman transformation. Like all of her projects, she's totally self-guided and relies on data and technology she can scrounge around and salvage. Encountering some Kree technology displaces the big, red monster into the present. And at first Devil Dinosaur has no reason to think they're friends.   Marvel.com: What do you feel is most important in crafting an intriguing team-up? How do Lunella and Devil fit that bill? Amy Reeder: I think the goal is to make them feel absolutely inseparable; the whole must become more awesome than the sum of its parts. In this case, they're polar opposites in what they bring to the table, and they truly need each other. And I think Devil's previous team-up with Moon Boy sets him up to be a bit of a buddy character by nature. Brandon Montclare: The personal relationship is always the most important thing in any team up. And for this odd couple, you have to make sure you treat Devil Dinosaur as a fleshed-out character. That's a challenge, because he's basically an animal. But as a writer you try to change challenges into advantages—at the very least, treating a dinosaur like a regular character presents unique opportunities!
Marvel.com: We can imagine all sorts of trouble the duo gets in! What will their first challenge be like? Brandon Montclare: Lunella tends to get herself in a lot of trouble before teaming with a wild T-Rex. So every new adventure is some form of "trouble." One of the things I'm most looking forward to is the logistics: how a dinosaur reacts in a modern urban setting, how he hides in between the action, how he's going to eat. Amy Reeder: Devil Dinosaur isn't the only being who comes through a portal to greet Lunella— we've also go the threat of Killer Folk coming to modern times and wreaking havoc, and that's going to be a lot of trouble for her in the initial arc. In fact, I know Brandon is especially looking forward to the fun surprises we have in store when the Killer Folk make it to the Big Apple. Stay tuned.  Marvel.com: And finally, how is Natacha Bustos the perfect artist for this book?  Amy Reeder: When we were trying to find an artist for the book, we started to realize we'd need a lot of things in an artist: someone who can draw kids believably and dinosaurs believably, and be able to draw the tech stuff Lunella creates—or at least have the ability to learn how to do all these things. Luckily, Natacha has the ability to really step up to the plate! That and she's a terrific storyteller, which is especially vital in a story where one of the main characters can't even speak. Brandon Montclare: I got to work with Natacha on Strange Sports Stories [for Vertigo]. It was an unexpected pairing for this bonkers sumo wrestling tale I'd already written. You wouldn't think of matching her style to that kind of story. But she was so cool and the art was so great. She made the story her own, and therefore better. To now get to work with her from almost the beginning of the process—with a story for which she has an affinity—it's going to be amazing. MOON GIRL AND DEVIL DINOSAUR makes an impact this fall, while the latest
All-New, All-Different Marvel
news keeps coming your way courtesy of Marvel.com and our social channels!
>> read more
James Patterson & Marvel Announce Max Ride: Ultimate Flight
(Wed, 19 Aug 2015)
Max and the Flock are back! Today, Marvel and international best-selling author James Patterson are pleased to announce the continuation of the Max Ride saga with JAMES PATTERSON'S MAX RIDE: ULTIMATE FLIGHT #1, a brand new series set to debut this November! Writer Jody Houser and artist R.B. Silva take the reins on the fast paced high stakes adventures of Max, a teenage girl, who due to genetic tampering is part human and part avian! After escaping from their creators and now on the run, Max and her "Flock" use their extraordinary abilities to defend themselves and save the world. Now more determined than ever to learn the truth, they'll stop at nothing to uncover the secrets of their origins and discover the limits of their new found abilities. But when a new stranger enters their lives, she'll turn their whole world upside down! "Seeing heroes who look like us give us an example to aspire to," says Houser on the importance of young heroes. "It shows us possibilities of what we can be, what we're capable of. More importantly, seeing versions of ourselves in stories shows us that we matter." Can Max save the world and save her family? Or will she have to choose? A bold new adventure is about to take flight. Be there as the fantastic world of James Patterson soars off the pages as only Marvel can bring you in JAMES PATTERSON'S MAX RIDE: ULTIMATE FLIGHT #1!
JAMES PATTERSON'S MAX RIDE: ULTIMATE FLIGHT #1 (of 5)Written by JODY HOUSERArt by R.B. SILVACover by YASMINE PUTRIOn Sale November 2015!
>> read more
Soule, Asmus & Caselli Launch All-New Inhumans This December
(Wed, 19 Aug 2015)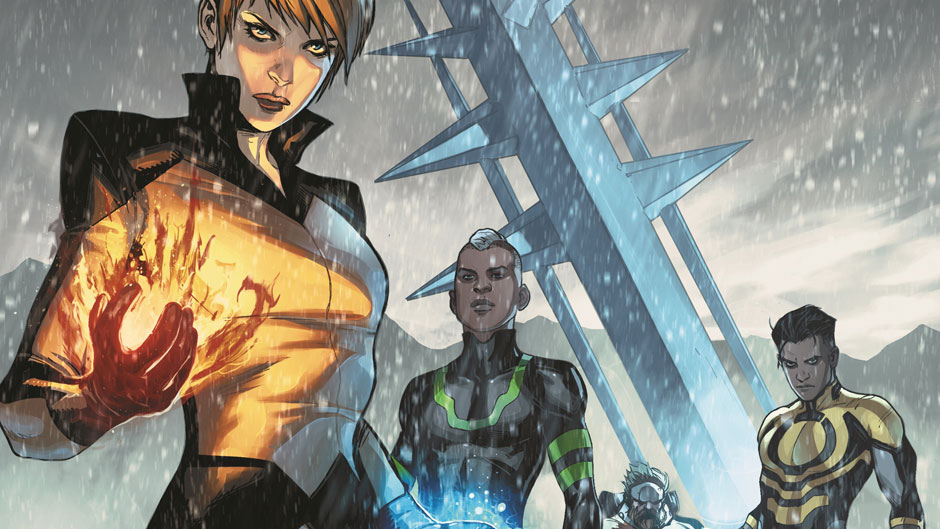 This December, the Inhumans' world expands with the debut of a second ongoing series from writers Charles Soule and James Asmus, and artist Stefano Caselli. ALL-NEW INHUMANS features Crystal leading a team including Gorgon, Flint, Naja, and Grid as they set out to examine mysterious "Skyspears" that start popping up across the globe, objects that cause an Inhuman's power levels to spike when in their proximity. "These stories follow a diplomatic mission/covert strike team effort lead by Crystal," relates Asmus. "She's been at the center of the Inhumans, but also served as an Avenger, alongside the Fantastic Four, and even dabbled with the X-Men when she was married to Quicksilver. She's been a constant presence in the Marvel Universe, but leading this faction of NuHumans is her stepping up in a big way." According to Soule, the Skyspears that Crystal's team will investigate also tie into the larger ongoing plans for the Inhumans in significant ways. "Skyspears are big obelisk-type artifacts that have appeared in or near population centers all around the globe," explains Soule. "They can't be moved, or damaged, or even really affected in any way. Their purpose is part of a pretty long play, but the All-New Inhumans will definitely be involved with their ongoing story."
ALL-NEW INHUMANS will complement its sister title, UNCANNY INHUMANS by Soule and Steve McNiven, in ways that will allow the Inhuman corner of the Marvel Universe to become even bigger. "For the most part, UNCANNY INHUMANS focuses on the more epic conflicts of the Inhuman Royal Family, while our book focuses on the sudden explosion of NuHumans," Asmus elaborates. "Our stories, at first, will be a little smaller in scope, with deeply personal consequences for the characters. But we're building up a cast and a portrait of the new Inhuman world that will soon have to go toe-to-toe with Marvel's big boys in a very high-stakes way. "ALL-NEW INHUMANS in particular will focus on the strange and dangerous complications that come from a global unleashing of NuHumans," the writer continues. "This book will be the number one way to see exactly how the Marvel Universe is changing as the Terrigen Cloud moves through the world. It's about getting into countries hit by the cloud--through any means necessary--to help those who need it, and stop those out to kill/exploit/harvest their fellow NuHumans. But of course, new teams and global politics being what they are, there are a million ways for even the best intentions to go wrong. And maybe not everyone on our team has the best intentions to begin with…" That mission statement comes directly from the Queen of the Inhumans herself, but as with any family, some tension may arise between Crystal and Medusa.
"Crystal and Gorgon are running their mission directly in coordination with Queen Medusa's vision for the Inhumans," the writer continues. "But that doesn't mean Crystal completely sees eye-to-eye with her sister. And when they do have to fully come together, it will be because something has gone very wrong." Asmus also promises that the series will start laying seeds for some massive events down the line. "We're definitely directly building to at least two big, big things that will affect the nature of the wider Marvel Universe as well characters near and far outside of the Inhumans," he teases. Soule also hints at some larger ties not just between the series featuring Inhumans, but with another section of the Marvel Universe. "The Inhuman corner of the Marvel Universe is a pretty cool place, especially once you bring in books like MS. MARVEL and KARNAK," Soule points out. "They're all part of a larger picture, and they're all connected in large and small ways. Similarly, the Inhumans are part of the huge tapestry that is the Marvel Universe, and we'll see all the threads getting woven together as we move into 2016. I know there are some really cool stories coming up with respect to the X-Men, for one thing..." Finally, Asmus most looks forward to helping to broaden the Inhumans' world with the help of his artistic collaborator, Stefano Caselli.
"I have been having a blast digging into the new characters Charles created, and crafting new ones myself. I think this book being all about new blood and a new, complex era for the Inhumans makes it a perfect book for anyone who hasn't ventured much into their corner of the Marvel mythology. I've been thrilled and excited by the way comics readership has broadened and invested themselves in new, rich, and genuinely diverse characters.  That kind of sincere complexity of characters, worlds, and ideas always defined my favorite books--and ALL-NEW INHUMANS has been a dream-come-true chance to do that kind fresh and expansive creation with Marvel. "Plus, Stefano Caselli is onboard! He has long been one of my favorite artists in comics for his incredible blend of rich characterization and absolutely visceral action work.  His work is so beautiful, in fact, that I'll try not to cover it up with as many words as I usually do!"
>> read more
Listen to a This Week in Marvel D23 Special
(Wed, 19 Aug 2015)
Ryan and Marc give you all the Marvel news you missed from D23, they chat with John Vignocchi (VP of Production), John Blackburn (SVP & GM) and Bob Lowe (Sr Game Director) of Disney Infinity and much more!
Download the D23 special of This Week in Marvel from Marvel.com
, 
grab the TWiM RSS feed
 and 
subscribe to This Week in Marvel on iTunes
 so you never miss an episode!
This Week in Marvel will focus on delivering all the Marvel info on news and new releases--from comics to video games to toys to TV to film and beyond! New episodes will be released every Tuesday and Thursday (or so) and TWiM is co-hosted by Marvel Digital Media Group Executive Editorial Director Ryan "Agent M" Penagos and Marvel.com Senior Editor Ben Morse with Manager, Video & Content Production Blake Garris, Editor Marc Strom, and Assistant Editor Patrick Cavanaugh. We also want your feedback, as well as questions for us to answer on future episodes! Tweet your questions, comments and thoughts about TWiM to 
@AgentM
, 
@BenJMorse
, 
@blakegarris
or 
@Marvel
 with the
 hashtag #ThisWeekinMarvel
!
>> read more
Deadpool Takes Over the World
(Wed, 19 Aug 2015)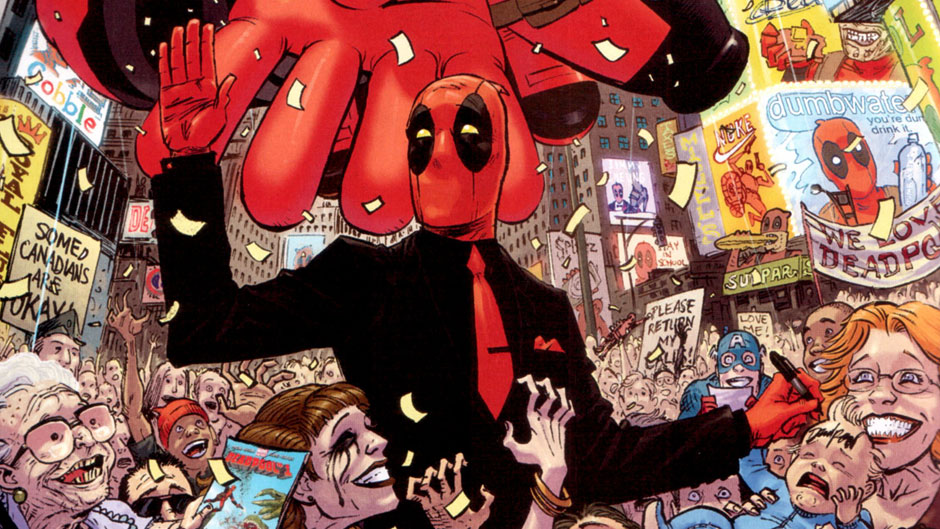 Deadpool will hit the big time when the Marvel Universe gets back to some semblance of normalcy in October after the events of
Secret Wars
. Well, maybe "normal" may not quite describe it best, considering that the Merc with a Mouth has come out the other side of the reality warping event as one of the most famous heroes in the Marvel Universe! Wade's now so popular that he's a full-on member of the Avengers! And rich! How did all this go down? We're still not quite sure, but writer Gerry Duggan and artist Mike Hawthorne—who worked on
the previous volume
with writer-comedian Brian Posehn—sure do. Though he stayed tight-lipped on the larger details, Duggan does get into a few of the finer points of the upcoming series which hits stores in October with covers by Tony Moore. Marvel.com: What keeps bringing you back to this character? Gerry Duggan: Secret Wars provided us with the perfect opportunity to write "The End." It's a unique opportunity in comics and we adored that end. Now, eight months later life returns to the Marvel Universe, and we still have a lot of gas in the tank. I know our group has cooked up another big story, and I think we've surprised ourselves, so I hope we will surprise fans. A lot happens to Deadpool in the eight months since he wiped out Ultimatum. The first issue back may be quite disorienting. I will say that Mike and Terry [Pallott] have collaborated on a simply stunning return; panels with multiple perspectives, high drama, big action and wonderful gags. They're the Lennon and McCartney of Deadpool. Marvel.com: Secret Wars has been pretty crazy for everyone. Deadpool's coming out of it rich and famous. Can you talk a bit about how that happened? Gerry Duggan: Actually, no. Here's what we can say: Deadpool is rich and famous after the time jump. Deadpool's elevation comes at a time when [Wolverine] is gone, and Steve Rogers is diminished. That creates extra work for Wade, and it will have some interesting consequences. You'll be dropped right into the middle of a Deadpool hurricane in issue one.
Marvel.com: Wade has always followed the beat of his own drummer. How has having boatloads of money changed his outlook on being a mercenary? Gerry Duggan: Well, one of the biggest changes in Wade's life is his Avengers membership. Yes, he has a lot of money, but the Avengers are an organization fueled on heroism—and cash. Much of Deadpool's riches are being diverted to the Avengers organization, so you might not see Wade living like Tony Stark. Marvel.com: Along similar lines, being world-famous seems like it would put a damper on many of his usual activities. Is that the case? Gerry Duggan: He's still the same guy, and he's gotten everything he wanted; only time will tell if this really is exactly what he wanted. Marvel .com: With everything new going on in Wade's life, what's his wife Shiklah up to? Gerry Duggan: That's an interesting question. Their marriage is a little more complicated eight months later, and her jaunt across Battleworld may have shifted some of her thinking about life, and being a wife. I promise whatever's gonna jump off will be fun! Thanks for pre-ordering DEADPOOL this fall. Can't wait for you to find out what we've been working on. Live the high life on DEADPOOL this October with Gerry Duggan and company, and stay tuned to Marvel.com and our social channels for the latest
All-New, All-Different Marvel
news! 
>> read more
Angela Reigns in Hel
(Tue, 18 Aug 2015)
Hel has a new queen and it's none other than the lost daughter of Asgard, Angela! In the wake of
Secret Wars
, Thor's long-forgotten sister will not only return to the pages of her own series, but also set up shop in the Norse underworld she now rules in order to save beloved partner Sera. First appearing in the Marvel Universe at the close of
Age of Ultron
, Angela also showed up in
Original Sin
and had run-ins with the Guardians of the Galaxy before earning the solo title
ANGELA: ASGARD'S ASSASSIN
. Throughout that series, she learned that she had been a child of Thor's parents Odin and Freyja, but presumed killed as a baby in a battle with Heven. An angel discovered that the child—called Aldrif—still lived and raised her in secret in the angelic dimension. With that in mind, the shift over to running Hel will be an interesting one as documented by ASGARD'S ASSASSIN and
1602 WITCH HUNTER ANGELA
writer Marguerite Bennett and artist Kim Jacinto, who took some time to discuss the new comic. Marvel.com: Marguerite, you've been chronicling Angela's adventures since her book launched and Kim, this is your first go around with her. What draws each of you to this character? Marguerite Bennett: Angela is an ideology incarnate: perfect balance. All debts are paid. All things have price. There has never been room in her for personal needs; for love, hatred, revenge, mercy. It always came down to balancing the scales—until now. Now, Angela will betray that ideology. Angela will act for the one and the thing she wants. Breaking something that central in a character is fascinating—and surprising. Kim Jacinto: What draws me to this character is that she looks pretty badass and really strong and I'm more into the assassin kind of thing. Plus she's a woman; that's really cool! I like her attitude. For me she's the type that you don't wanna mess with, built for the kill. Marvel.com: Without giving away too much, can you say how Angela's doing after the events of Secret Wars?   Marguerite Bennett: Angela's in a bad place, but she's also in a place of immense freedom. She's cleared her debts to Heven and Asgard, to the Angels and to her family. She could do or have anything. But there's only one thing she wants: she wants to find Sera again. She will do anything—anything—to have Sera back, even if that means destroying the balance she has so carefully cultivated. Kim Jacinto: Since the [new] title is ANGELA: QUEEN OF HEL, I think she's gonna rock. The title itself is very powerful and shows authority. Marvel.com: Angela is truly an outsider's outsider given her origins. Now she's in charge of Hel. Does that status help or hinder her ability to run that nefarious place? Kim Jacinto: I think it's a bit challenge for her to rule the place because it's her very first time sitting on the throne right? So I think it's a very challenging position for her, plus It's a different world from her origins. Marguerite Bennett: This is a fantastic question and I feel such extreme regret that I can't answer it right now as it's a huge spoiler. Instead, I'm going to talk about how brilliant Kim and [co-artist] Stephanie [Hans] are. I am utterly twitterpated with their work. Their styles are so suited to this book and play so wonderfully against each other, ebbing and flowing between the present and the past. From the beginning, we always wanted ANGELA to be a beautiful book—with Phil [Jimenez], [colorist] Romulo [Fajardo Jr.], [inker] Le Beau [Underwood], [letterer] Clayton [Cowles], everyone. Having Stephanie return and being able to welcome Kim onto the insanity of Team Angela is a pleasure.
Marvel.com: With the new setting, will readers see Angela interacting with some familiar faces? Marguerite Bennett: Oh, yes! Sera, of course, is right up there on that cover with Angela. Beyond that, we have the hosts of the dead to play with. Does that sound really gross? Yeah, that sounds really gross. I am anticipating the return of one extremely beloved face; we're not 100% about their reappearance, but I will bargain with quite a few devils if we get to see them return. And who knows, maybe somewhere down the line I persuade Kieron to come cameo and get up to mischief with us again. Marvel.com: How would you explain Hel to readers both from a visual and a mood perspective?  Marguerite Bennett: In this arc, Hel is actually not a place of punishment; it's meant as a place of rest for the honest dead, though contrasted with the worthy, who are permitted to enter Valhalla. This is the idea, though. As we learned at the end of ANGELA: ASGARD'S ASSASSIN, Freyja made a deal that sundered the Angels of Heven from the World Tree. Freyja, in revenge for her daughter's apparent murder, gave the souls of the dead Angels to Hela, to use as a slave race in Hel. For the Angels, Hel is a place of torment. I wanted to use Kim's considerable skills to the most good in defining the Hel of the Angels as something both beautiful and terrifying. I hope you enjoy. Kim Jacinto: It's a very dark, warm, chaotic, gritty grunge place. Marvel.com: Angela is an interesting character in the Marvel Universe in that she's got a history, but hasn't been around that long. Does that offer specific challenges when chronicling her new adventures? Marguerite Bennett: It does! We are essentially trying to do her past credit while reinventing her, embroidering her into the Marvel Universe. This arc is very much about Angela and Sera's pasts and the consequences of those actions as they struggle to conquer Hel and free one another. I can't thank readers enough for their support of the two of them, their friendship, their relationship, and the continued saga of their deadly adventures in ANGELA: QUEEN OF HEL. Bow down to ANGELA: QUEEN OF HEL by Marguerite Bennett, Kim Jacinto, and Stephanie Hans this October, plus keep following Marvel.com and our social channels for the latest on
All-New, All-Different Marvel
!
>> read more
Fightin' Fanboys: Finn Balor
(Tue, 18 Aug 2015)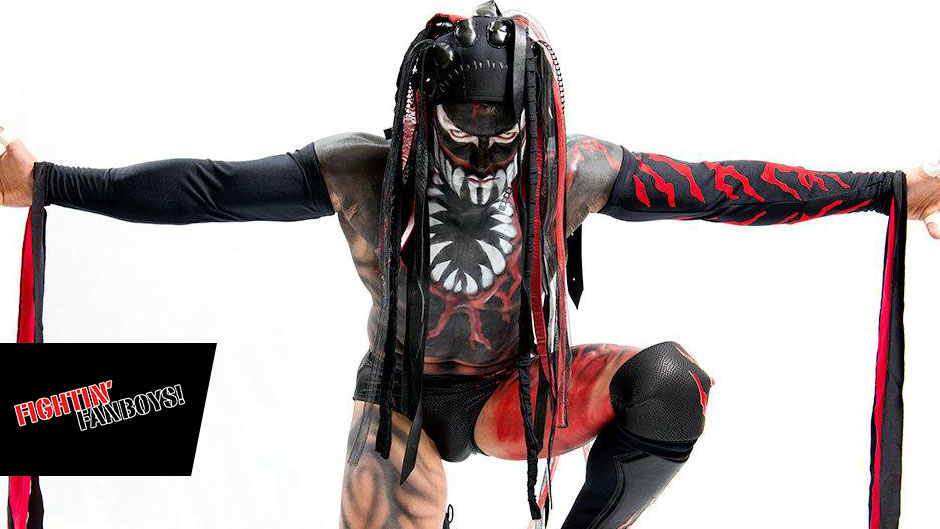 Photos courtesy of WWE We recently caught up with WWE Superstar and current NXT champion Finn Bálor in between preparation for his highly anticipated ladder match with former friend Kevin Owens airing live on the
WWE Network
this Saturday, August 22 at 9 p.m. ET/6 p.m. PT. He talks preparing for his first ever ladder match, how The Demon found his Marvel inspiration and much more! Marvel.com: To begin, Demon has been painted as Punisher, Carnage, Spider-Man, Venom... I believe there was Scarlet Spider and then Spider-Man 2099 as well. Am I missing any? Finn Bálor: I don't think so. You know your stuff. All those paint jobs feel like a long, long time ago. So much has happened in the last year since I came to the WWE. It's been a trip. Just even mentioning some of those paint jobs bring back a lot of great memories for me.
Marvel.com: Some of those are fairly deep cuts. Were you a fan of comics growing up? Finn Bálor: What I was more drawn into about comics was really the animation. I was always a huge art fan. I kind of excelled in art as a class in school. It was something I toyed with the idea of pursuing art after school. I was always drawn in by how you guys animate and create body language and show the heroes and villains and that's what drew me in more so than the stories. The way the angles that the sketches would be drawn from, I was really drawn in by that. I wasn't like a maniac… like a superfan. I know a few things but it was more kind of the body language and the costumes that I was drawn to. Marvel.com: If you had to pick a favorite character from the ones that you've been painted as, who would you pick and why? Finn Bálor: Venom would definitely be kind of my favorite more so for the fact that it was the first one that I had done on the independents in the United Kingdom. And the reaction it got, kind of the doors had opened for me to do it more often. So that would definitely be maybe my favorite. Of course, it was very situational the venue that I did it in. I was wrestling against one of my close friends; but that was definitely one of the moments where I knew I was definitely onto something with regards to being able to do this and kind of combine the two things that I like: art and pro wrestling. Kind of combine them together and create more, basically, living art. Marvel.com: How did you hear about Scarlet Spider and the Spider-Man 2099? Finn Bálor: I would always run through Marvel on Instagram. I would follow all the comic book accounts on Instagram. I'd be scouring through things I could possibly use in the ring. So that's where I found 2099 and when I saw it I said, "That's the one." There are a lot of ones of Scarlet Spider that I really liked but I wasn't happy how it turned out. There are some photos out of it and it looks great. And in the animation it looks a lot better than the way it turned out when I painted it and I think that was mainly to do with the eyes being red as opposed to the eyes being black. That was the main reason a lot of people wanted me to do Deadpool and I'd get a lot of tweets and stuff about being Deadpool. But that was the one reason why I didn't want to do Deadpool. It was more that the color schemes influenced what I would do as opposed to the character itself. But when I saw 2099, I kind of split it down the middle. That was one of my favorite ones and it didn't get as much love from a lot of people. That was one of my favorite actual paint jobs.
Marvel.com: So obviously congratulations on having a Brooklyn NXT show sell out. You've got to be feeling pretty good. Finn Bálor: It's unbelievable. I've been involved with a lot of big shows in my life but this one just feels different. This is something that we've built from the ground up and it's not just a one-man show; it's really a team effort. NXT is a team. 13,000 tickets sold at Barclays Center I think just speaks for itself. To be headlining against Kevin Owens, someone who I came into NXT together with. We went through a lot of the same issues with adapting to life in the performance center and NXT in the United States of America. We went through a lot of struggles together and to face off in the main event of this show in New York City is just unbelievable. Marvel.com: Speaking of Kevin, facing him after defeating him for the title, what do you think he'll bring to the table this time around? Finn Bálor: Kevin is an interesting cat. You never know what he's thinking. People don't give him credit for how clever he is; he's a really deep thinker. You never quite know what he's going to come with. He's always working an angle; he's always got a plan. You can never take Kevin for granted. I know Kevin very, very well and I know he'll have a couple of tricks up his sleeve. But the Demon will have a couple tricks up his sleeve too so I'm not too worried about that.
Marvel.com: Correct me if I'm wrong but this is your first ladder match, right? Finn Bálor: Yes. I've been wrestling for 15 years and the only time I've climbed a ladder is to change a lightbulb. This is my first ladder match. We've got a ladder at the performance center and I've been climbing it once or twice. I gotta say I'm not too comfortable on it. I like my feet firmly on the ground or at least on the top rope but the ladder is a different animal altogether so it's obviously going to be a learning curve for me. Kevin has obviously a lot of experience in ladder matches in his past. So he maybe has an advantage there but you know, on the night, 13,000 people, there will be nothing else. There will be nothing but excitement and I'll be looking forward, I'll be living off the adrenaline and I'll be climbing that thing and capturing the NXT championship. Marvel.com: I'm curious, how are you preparing for this since it is the first ladder match for you? Finn Bálor: That's a great question. I haven't changed energy. I'm just approaching this as a match. Everything else except the fact that there's a ladder in the ring; it's a match. I still gotta go through the same stretch routines. Still gotta get to Brooklyn, first of all. Still gotta get a night's sleep beforehand. Still gotta go stretches, get prepared, get warmed up. Do my entrance which, I'm telling you, is going to be a sight in the Barclays Center. Then the bell will ring. There will be ladders in the ring but you know, it's still one-on-one. I'll do my best. It's a match. Marvel.com: Do you think William Regal will have any new surprises up his sleeve before the match? Finn Bálor: If he makes it into a normal match, I'd be quite happy. Mr. Regal, he's very influential in NXT. I know we had a TV tangle last night and he was very influential there. He restarted a match. So who knows what he'll do but I'm sure Mr. Regal will be there on hand and if there are any issues that need to be corrected or anything that he doesn't see fit that needs to be changed, he'll be there to handle that. But I'm not worried about Mr. Regal right now. All I'm worried about is Kevin Owens and climbing that ladder. I think I need to hit some box jumps down at the gym this week and work on my speed skills and start getting up them ladders. Follow Fin on Twitter at
@wwebalor
and catch NXT Takeover: Brooklyn live on the
WWE Network
this Saturday, August 22 at 9 p.m. ET/6 p.m. PT.

>> read more
Marvel Variants Get the Manga Treatment in August and September
(Tue, 18 Aug 2015)
Over the course of August and September, 20 Marvel comics will feature manga variants--and now you can see them all right here on Marvel.com! Check out all 20 variants in our gallery above, including covers for AMAZING SPIDER-MAN: RENEW YOUR VOWS #4, GUARDIANS OF KNOWHERE #3, THORS #3, and many more. To find these variants and other Marvel comics, head to
ComicShopLocator.com
to find the comic store nearest you, and stay tuned to Marvel.com for the latest news on your favorite heroes!

>> read more
Follow the History of Black Widow Pt. 12
(Tue, 18 Aug 2015)
A super spy, a super hero, an Agent of S.H.I.E.L.D., and Avenger—Natasha Romanoff has been all these things and much more since making her way into the Marvel Universe over 50 years ago. With Marvel's 
"Avengers: Age of Ultron"
 and other Marvel Cinematic Universe outings continuing to raise the Black Widow's profile, we chronicle her exciting history! The Black Widow saw to the shutdown of the Avengers West Coast operation with the Vision's help in
AVENGERS #370
, but that relatively mundane task gave way to stranger events, such as a smear campaign against the Sentinel of Liberty in
CAPTAIN AMERICA #425
, and the funeral of Matt Murdock in
DAREDEVIL #326
. Natasha's concern over the bond between teammates Black Knight and Sersi in
AVENGERS #372
blew into a much greater problem with the Eternal's arrest for murder and her subsequent destruction of part of Avengers Mansion in
AVENGERS #373
. Sersi ran off just as a new group of Gatherers consolidated their power in
AVENGERS #374
, prompting the Widow to organize a search for the missing team member as her concern blossomed anew. Everything came to a head in AVENGERS #375 as the Widow led her crew in battle with Sersi's torturer, Proctor, and his band of Gatherers.
A weakening Steve Rogers needed help from both Black Widow and Diamondback in
CAPTAIN AMERICA #430
to keep an old foe of Natasha's, Damon Dran, at bay. The Widow later bemoaned the loss of Sersi and the Black Knight in
AVENGERS #378
just as the alien Shi'ar began to cause more trouble for the team. To add insult to injury, the goddess Hera attacked Avengers Mansion in
AVENGERS #384
, leading Natasha to deal with Zeus himself to straighten out the situation. Tony Stark required the Black Widow's aid in Russia when he clashed with Titanium Man in
IRON MAN #316
and
#317
. Following that, Natasha took the Avengers to the Canadian Northwest in
AVENGERS #385
on a tip from an old friend, but the Red Skull awaited the team there in
AVENGERS #386
, testing all of the Widow's strength and abilities to fight him. The battle led Earth's Mightiest Heroes to an A.I.M. base on the island of Boca Caliente in
AVENGERS #387
, and a confrontation with both M.O.D.O.K. and the Super-Adaptoid in
AVENGERS #388
.
Returning from that mission, Natasha held off government agent Henry Peter Gyrich from seizing ally Deathcry in
AVENGERS #389
, but the mysterious murder of Crystal's daughter's nanny in
AVENGERS #391
grabbed all of the Widow's attention. After Steve Rogers succumbed to his loss of the Super-Soldier serum and other injuries, Natasha made a public announcement in
CAPTAIN AMERICA #444
to inform the citizens of America of the situation. Cap somehow returned in full force in
CAPTAIN AMERICA #445
to help the Avengers with a group of terrorists demanding his presence. The Avengers' bowman Hawkeye stood accused of the nanny's murder in
IRON MAN #322
, but he told the Black Widow he'd been framed for the crime by Tony Stark. Natasha agreed with Jim Rhodes and the U.S. Agent on Hawkeye's innocence in WAR MACHINE #20 as the mystery expanded and deepened, forcing her to intensify the investigation in
IRON MAN #323
. Tony Stark's guilt came to light in
AVENGERS #393
, leading to a pitched battle between Iron Man and the Avengers and the serious wounding of Natasha's friend the Wasp.
Read more on 
Marvel Unlimited
>> read more
A Legendary Avenger Returns in Black Knight
(Tue, 18 Aug 2015)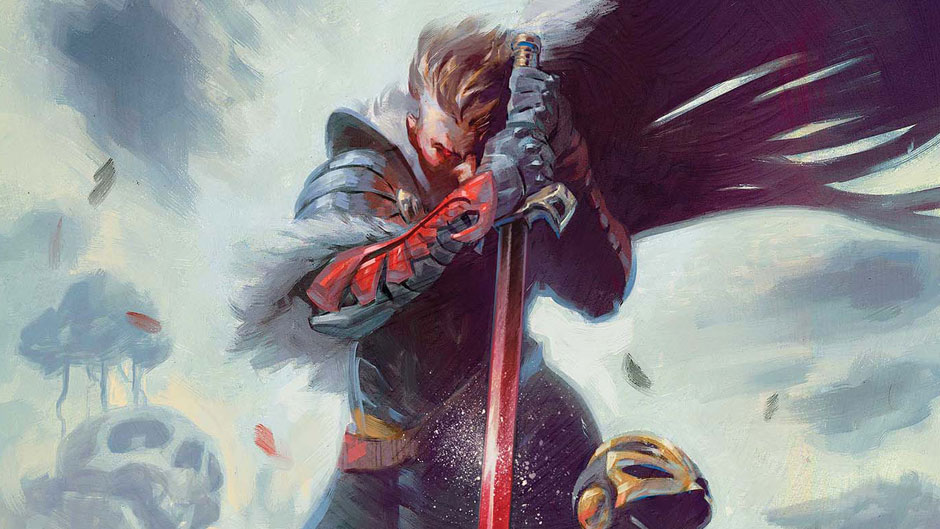 Their legend echoes through history. Ancient warriors and wielders of the legendary Ebony Blade. Champions of their own destiny. But what do you do when it's your destiny…to be damned? Find out this November as the creative team of Frank Tieri and Luca Pizzari bring you BLACK KNIGHT, a brand-new ongoing series launching as part of
All-New, All-Different Marvel
! Forged by ancient magic, long has the Ebony Blade granted its user the powers of the Black Knight, passed down through the centuries. But all power comes with a price, as each and every Black Knight has met an untimely end – a victim of the blade's curse. Will Dane Whitman's fate be the same? The long-time Avenger's addiction to the blade grows stronger and stronger every day. Will he succumb to its power and suffer the same end?   A lost man himself, Dane now finds himself in Weirdworld, the place where all lost things go. What are the circumstances that brought him to this strange place, so far from the world he called home? And what could he possibly have done that would cause the Uncanny Avengers to mobilize against him, a man they called friend? See the Marvel Universe from a whole new angle this November as Tieri and Pizzari take Dane Whitman to the depths of Weirdworld and beyond in BLACK KNIGHT #1!
BLACK KNIGHT #1 Written by FRANK TIERI Art by LUCA PIZZARI Cover by JULIAN TOTINO TEDESCO Variant Cover by ERIC POWELLOn Sale in November!
>> read more
Follow the History of Deadpool Pt. 3
(Wed, 29 May 2013)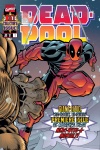 By Brett White After making a bloody splash as an X-Force villain just over 20 years ago, Deadpool has grown from a cult favorite second banana to Marvel's most notorious leading mercenary. On June 25, 2013, comic book fans everywhere will get to experience life in the red and black tights when
Deadpool's first ever video game
breaks its way into stores. This marks Wade Wilson's first time headlining a game after appearing in other titles like "Marvel: Ultimate Alliance" and the Marvel vs. Capcom series. To celebrate this momentous occasion, we're giving you an in-depth look at Deadpool's history, from his humble beginnings as X-Force's snarkiest foe all the way to today. Be sure to visit the Marvel Digital Comics Shop and Marvel Digital comics Unlimited to brush up on your 'Pool history!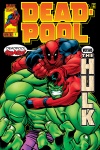 What's a merc to do when the object of his affection needs breaking out of a mental institution? In X-FORCE #47, Deadpool answered Siryn's call for help after a failed mission landed her in the Weisman Institute for the Criminally Insane. But just as Wade busted X-Force's field leader out, he got left behind with all memory of his involvement removed from Siryn's mind by the manipulative Gamesmaster. When her memories returned in X-FORCE #56, Theresa went back to rescue Deadpool. With both halves of this odd couple finally free, 'Pool paid his rescuer back with a kiss which…didn't really please her. Better luck next time? 1997's
DEADPOOL #1
—kicking off DP's first ongoing series—shoved a lot of Wilson's skeletons out of their cozy closet. The issue gave readers an unobstructed look at Deadpool's home life in a quaint San Francisco home with his elderly live-in prisoner, the cantankerous and feisty Blind Al.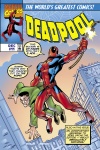 Wade took a mission to destroy a science outpost in Antarctica. Not a problem—until Deadpool discovered that Dr. Walter Langkowski—better known as Alpha Flight's Sasquatch—ran the outpost. The ensuing fight—because of course there was a fight—damaged the outpost's gamma core and threatened to irradiate half of Earth. Wade did the unthinkable to prevent a global catastrophe: he dove into the gamma core to fix it, saving the day and exhausting his healing factor. The intergalactic holding company Landau, Luckman and Lake claimed responsibility for DP's Antarctic mission, claiming they set him up to find out if he could be the hero their in-house prophets had said he would be. Wilson laughed off their offer to become a working good guy.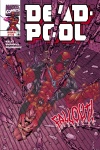 With his healing factor broken, Deadpool tracked down Dr. Killebrew with Siryn's help. The former Weapon X geneticist wished to atone for the unspeakable horrors he did to Wade, so the doctor cured the merc's gamma irradiated healing factor with a healthy dose of Hulk-blood procured via impalement in
DEADPOOL #4
. This freed Wilson up to murder Killebrew, but Siryn convinced him otherwise, thus setting Deadpool on the heroic path that LL&L saw in his future. The path to true heroism included a few nasty pit stops. Getting involved in a bloody relationship with the deranged Typhoid Mary didn't help in
DAREDEVIL/DEADPOOL ANNUAL
. Temporarily posing as Spider-Man in the hero's early days and scaring Aunt May nearly to death didn't show great care for the time stream in
DEADPOOL #11
. Throwing Weasel and Blind Al in a dark room filled with knives, buzzsaws and razor blades just because the two communicated behind his back did demonstrate much heroism, and rushing headfirst into a battle with the psychopath T-Ray nearly got 'Pool killed in
DEADPOOL #14
.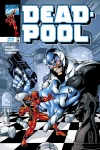 All of those setbacks proved necessary to push Deadpool towards accepting LL&L's offer when agent Zoe Culloden pulled his broken body out of the snow. In
DEADPOOL #17
, the Merc with a Mouth learned his destiny as the Mithras with a mouth, a being charged with shepherding in the messiah. After coming to terms with his fate, Wilson prepared himself for his job, which turned out to just involve gutting an alien messiah-killer named Tiamat. The prediction became less than clear, though, as the messiah Deadpool pledged to protect turned out to be a celestial entity that robbed civilizations of their free will. After learning the truth in
DEADPOOL #25
, Wade turned against his mission and killed both his adversaries and the being he had been meant to safeguard. The world lost a "messiah" and gained continued free will.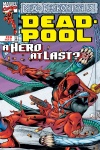 With his destiny destroyed and his entire support group gone, Wade fled San Francisco permanently. As far as he ran, though, his past came back in the physical form of ex-wife, Mercedes. Although he didn't initially remember being married, Deadpool's memories of their life together and tragic end came back slowly. Mercedes had been murdered by T-Ray after the naive Wilsons took him in, an act that threatened to be repeated after T-Ray showed up again on DP's doorstep.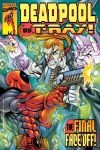 DEADPOOL #33
dropped a bomb on the merc's backstory, as T-Ray revealed Mercedes to actually be his wife, Wade Wilson his true name, and the man who ruined their lives—Deadpool. T-Ray's magic left Wilson on the brink of death, and the reunited Wilson couple left Wade to rot and recuperate in hell. But does this revelation shake Deadpool's core sense of self? Not one bit! After all, no one should trust a psychopath with a band-aid for a nose like T-Ray! Check out
DEADPOOL (1997)
in
the Marvel Digital Comics Shop
, plus on
Marvel Unlimited
.
>> read more
Download 'This Week in Marvel' Episode 81.5
(Tue, 28 May 2013)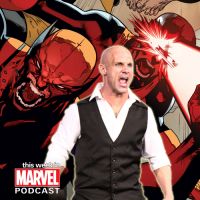 Download episode #81.5 of This Week in Marvel from Marvel.com
Ryan and Ben welcome their old pal
"The Fallen Angel" Christopher Daniels
,
Impact Wrestling
star and one half of the tag team Bad Influence, to the show. Enjoy a free-flowing discussion of comics and wrestling, including Daniels' plans for
Slammiversary
, his thoughts on Marvel NOW! and much more!
Download episode #81.5 of This Week in Marvel from Marvel.com
, check out 
Marvel Podcast Central
, 
grab the TWiM RSS feed
 and 
subscribe to This Week in 
Marvel on iTunes
 or 
Zune
, so you never miss an episode! This Week in Marvel will focus on delivering all the Marvel info on news and new releases--from comics to video games to toys to TV to film and beyond! New episodes will be released every Tuesday and Thursday (or so) and TWiM is co-hosted by Marvel Digital Media Group Executive Editorial Director Ryan "Agent M" Penagos and Marvel.com Editor Ben Morse with Associate Producer Blake Garris and Associate Editor Marc Strom.  We also want your feedback, as well as questions for us to answer on future episodes! Tweet your questions, comments and thoughts about TWiM to 
@AgentM
, 
@BenJMorse
 or 
@Marvel
 with the
 hashtag #ThisWeekinMarvel
! And if your message is longer than 140 characters, 
send it through fans.marvel.com!
>> read more